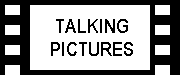 I'd hate to suffer the boredom of having to sit through anything like the roughly 200 films on offer at the London Film Festival each November. Usually there are around half-a-dozen which look of particular interest; this year (2001) I managed to see five.
I'm generally interested in documentaries about films and film-makers; this year there was an absolutely wonderful one, and another which was merely excellent. Pride of place went to Martin Scorsese's My Voyage to Italy, a four-hour indulgence of the Italian films, which the American director grew up with in New York and which influenced his work. Hugely generous clips, ranging up to perhaps 15 minutes per film, of a host of great Italian movies made between 1946 (Rome Open City) and 1963 (Fellini's 8 1/2), with Scorsese's own absorbingly enlightening commentary, makes this a superb introduction, and far more than an introduction, for anyone wanting to learn about that historic period of Italian cinema. Perhaps one-third of the film is devoted to Rossellini; not, I think, merely because of Scorsese's own familial connection. Paisa comes in for particular attention, not least the episode shot in Sicily from where his own grandparents emigrated. Voyage to Italy is also given a detailed treatment, and Scorsese rightly praises it as one of the greatest and most influential of all films, despite its initial commercial and critical failure. Two surprising omissions: no mention at all of Visconti's The Leopard, which Scorsese once listed among his five favourite films, and just a brief mention in passing of Fellini's La Strada. Otherwise a worthy follow-up to his personal journey through American cinema of a few years ago. It is not farfetched to suggest that Scorsese's greatest talent lies in film teaching rather than film-making.
The 'merely excellent' offering was Adam Low's Kurosawa, made for the BBC's Arena series. This concentrates on the man rather than his films, so that clips are brief, but a fascinating portrait emerges of a director deeply marked by two traumatic events in his early life: the Tokyo earthquake of 1923, and his brother's suicide. A striking comparison is made of newsreel footage of the aftermath of the earthquake and the scene of carnage at the end of Kagemusha. Kurosawa is scheduled for TV transmission in early 2002; don't miss it.
Two French films and an Italian one made up my Festival-going this year. The 'big' film (in terms of publicity) was Eric Rohmer's The Lady and the Duke, the veteran director's first foray into historical drama since the little-known, but brilliant, Percival le Gallois of 1978. A dramatisation of the memoirs of Grace Elliott, a wealthy British woman living in France during the Revolution, this stunningly-shot (in digital video) offering draws the viewer into the life of a woman whose royalist sympathies, and friendship with the Duke of Orleans, create a web of danger around her. Lucy Russell, on screen in every scene, gives a revelatory performance, while Rohmer's obvious sympathy for the character apparently caused a storm of controversy in France, where any suggestion that the Revolution might not be the greatest thing ever to happen there is almost taboo. The painted sets are astonishing, bringing to mind Trauner's famous sets for Les Enfants du Paradis. Highly recommended, not just for aficionados of Rohmer's two-handed conversation pieces.
Next is Time Out, directed by Laurent Cantet, the second French film I have seen this year (after Empty Days) about a middle-aged executive who is made redundant. This protaganist, portrayed powerfully and with great subtlety by Aurelian Recoing, reacts to his misfortune by keeping it to himself, inventing a job in Geneva which gets him away from his family during the week, and borrowing large sums of money from family and friends with the promise that his project will eventually reap huge dividends. As his concerns grow about how to repay the loans, he becomes involved with a fake goods racket; meanwhile his wife's suspicions increase.
Based loosely on a true case, Time Out is a powerful and involving drama which has found a British distributor. Finally, The Imperfect Love, directed by Giovanni Maderna, features a working-class couple in Genoa who decide to go ahead with the birth of their baby despite warnings that it will not survive owing to a major brain defect. This finely-performed film raises traditional Catholic issues like abortion, suicide, and miracles, dealing with them in a fair and rounded way. There is a memorable performance as the wife, the film's central figure, by Marta Belaustegui. Not very cinematic, comprising mostly two-handed conversations, but well worth catching if it manages to find a distributor.