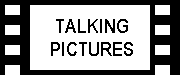 In the Riverside cinema, Hammersmith a short Czech Film Festival was held from 19-23 April, 2002, which included a short retrospective on Vera Cytilova, one of the leading directors of the sixties Czech New Wave. A series of these highly acclaimed, controversial films in the Staropramen Prague on Film Festival will hit London and tour UK cities from April 19 to the end of May (for more information click here).
I saw four very different Czech films: Prague, Restless Heart of Europe by Vêra Chytilová and Prefab Story by the same filmmaker, We live in Prague and Angel Exit.
First We live in Prague, a short avant-garde visual poem by Otakar Vavra, in black and white beautiful images. An unpretentious short. Then Chytilová's fast moving Prague, Restless Heart of Europe as contrast. An ambitious historical, sociological and visual tribute to Prague, the Paris of Eastern Europe. Vêra Chytilová uses all the cinematic techniques in the book: stop-motion, fast motion, slow motion, fast zooms and whip pans to create the restless character of this architecturally mesmerising city. A narrator takes you through the centuries, Renaissance, Baroque, Post-Modernism. A pity that she sometimes doesn't allow time enough to really absorb the images. For instance all through the film beautiful Prague women appear, but the shots are so short that you can hardly see them and in this way all the stunning imagery becomes a bit of a gimmick. And often Chytilová uses shots of "speeded-up" people running in the streets of Prague, a device I find absolutely awful to watch, because it reduces people to insignificant creatures. There is always a fine line between being meaningful and being pretentious and occasionally Chytilová crosses that line in her heavy-handed narrative.
Her second film I enjoyed much better: Prefab Story. Set in a vast modern housing development area with lots of tower blocks, Vêra Chytilová portays genuine people: a good natured old man, who is worried about an old woman who sits looking out of her window the whole day, a mischievous boy who nicks books from his neighbour woman, a shy girl with freckles who is in love with the boy from the neighbouring flat, a Don Juan who seduces anything female, a young woman who just moved in with her guy, etc. All people are portrayed in a real, witty and compassionate way. Chytilová deals with themes like modern alienation, solidarity, urban corruption and the pains and pleasures of daily life in an utterly authentic and seemingly effortless way. The Czech surrealist Jurai Jakubisko said about her:
"Vêra makes a film, as if she were buying a hat: a magnificent ceremony full of elegance and feminine cleverness. And all the while she is suffering, after sometime the hat she bought doesn't appeal anymore and right there a style of storytelling emerges."
A completely different film is Valdimir's Michalek's Angel Exit. Based on a book by the modern Czech writer Jachym Topol. A Czech equivalent of Trainspottting, full of drugs, alcohol, violence and dodgy characters. Mike, a down and out in a suburb of Prague falls in love with his new neighbour Jana. But their bliss doesn't last long, when Mike's ex-girlfriend Kaja suddenly shows up and drags him back to his former drug-fuelled life. This film shows how important it is to have likeable characters who you can identify with as a viewer, in Angel Exit they are mostly very unlikeable, selfish and completely screwed up, with the exception of a young Romanian orphan, a beautiful girl with deep eyes and dark curly hair, who deserves it to be in a much better, warmer, more human film.