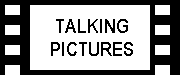 The U .K. saw the release of three films by directors in their mid or late 70s, which surpassed virtually anything produced at the same time by much younger directors.
First off was Secret Defense, translated as Top Secret, by the nouvelle vague veteran, Jacques Rivette. This could be described in some ways as a Hitchcockian thriller, and contains direct references to the master's films: a similar situation to that of Strangers on a Train, the apparent reappearance of a girl following her demise as in Vertigo, a girl's sister following up her disappearance as in Psycho, and a 'McGuffin' similar to the one in Notorious.
The central character is the research chemist Sylvie, played by Sandrine Bonnaire who starred in Rivette's previous film, the underrated and (in Britain) virtually unseen Jeanne la Pucelle. On discovering overwhelming evidence that her late father was murdered by his boss Walser (played by Jerzy Radziwilowicz, memorable in Andrei Wajda's outstanding Man of Marble and Man of Iron), she decides to visit his country house to seek her revenge. This sets off a chain of events which increasingly takes the form of a Greek tragedy, underlined by a striking final shot which emphasises Rivette's long-standing interest in Brechtian theatre.
What Rivette is interested in is not the mechanics of the plot, but the suspense inside a character's mind as he or she embarks on a dangerous plan. This is particularly illustrated in the celebrated 15-minute sequence where Sylvie is doing nothing more than travelling on a series of trains from Paris to Walser's country house. It takes a rare actress to make this look suspenseful, but Bonnaire pulls it off brilliantly. Highly recommended, and available on video. It lasts 3 hours, but to me seems much shorter.
Next is A Tale of Autumn, last of Eric Rohmer's Tales of the Four Seasons which have been appearing since 1991. To my mind the best of these was A Winter's Tale, whose action takes place over several years and which is neatly tied in with the themes of Shakespeare's play, but A Tale of Autumn is a thoroughly enjoyable and witty comedy about two 40-ish women in the French wine-growing region. When one advertises in a 'lonely hearts' column on behalf of the other, without telling her, some delightful misunderstandings arise. The film features two Rohmer stalwarts: Beatrice Romand, who played a young teenager in his classic 1971 film Claire's Knee, and Marie Riviere, who has appeared in many Rohmer movies over the years. Lots of lush scenery, too.
The third 'old master' is Theo Angelopoulos, the Greek director best known for the 4- hour Travelling Players and, more recently, the 3-hour Ulysses' Gaze. Eternity and a Day has received sarcastic comments from some critics along the lines of 'it feels like it', but at 133 minutes it is little longer than the average modern Hollywood movie. Angelopoulos' early films (which I have not seen) are fairly political from a left-wing viewpoint, and require some knowledge of Greek or Balkan history, but the political content of his latest is fairly minimal. He takes the admittedly unoriginal theme of a man close to death who decides to do something with the time remaining to him, in this case to help out an Albanian refugee boy. These theme was explored in different ways in such films as Kurosawa's Ikiru (Living) and Tarkovsky's Nostalgia, while the pairing of an elderly person with a young boy was recently seen in the Czech Kolya and the hugely impressive Brazilian Central Station.
In Eternity and a Day, Alexander, a Greek poet played by the German actor Bruno Ganz, relives memories of his wife from 30 years ago, in between helping the boy escape arrest, rescuing him from an adoption ring, and helping him sail back home. Unlike the deeply moving and humanistic Central Station, Angelopoulos' film is very detached and uninvolving, quite deliberately so as his intention is to explore states of mind rather than relationships in the buddy movie sense. Its strongest point is the stunning visuals, such as the fog-bound landscapes, the figures clutching a barbed-wire fence at a border crossing, and a wedding procession along the streets of Thessalonika. Angelopoulos goes in for very long takes with a slow-moving camera, reminiscent of Tarkovsky, and if this contemplative style appeals to you, as it does me, you will find this film hypnotic to watch. Whether it is actually saying very much I am not sure.
These three directors are mere striplings, however, compared to the Portuguese master Manoel de Oliveira, who was still making films at 90. One of his recent offerings, Abraham Valley, is in my view among the finest films of the decade, although it had only a week's run in London (but is available on video ). This amusing, and amused, modern version of Madame Bovary stands back from the characters and views them with an ironic eye, amid the lush landscapes of the Douro Valley. The heroine, who is lame, limps sometimes with her left leg and sometimes with her right. I can't fathom out the significance of this, unless it is a mistake. Surely not, for a director who has been churning out films with increasing frequency since 1928!