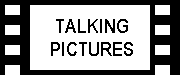 Within the space of 24 hours we have lost two of the great European directors who defined cinema for us nearly half a century ago. Both were old (89 and 94) and Antonioni had, amazingly, survived a serious stroke for more than 20 years. For anyone who wonders what all the fuss over their passing is about, I offer this brief dip into their highlights.
I was once taken to task for not rating Bergman as being among the greatest pantheon of film directors (see review of Persona). I meant by that remark that he was not in my personal "top ten" (neither is Antonioni); but he is certainly not far outside it. His range was limited, but his depth enormous.
Though he made comedies, he is best known as the purveyor of what some call "existential angst", much parodied by the likes of Woody Allen. In style he was a huge influence on my favourite film-maker, Andrei Tarkovsky. In particular he was an absolutely superb director of actresses, making an international star out of the hitherto unknown Liv Ullmann. With the help of brilliant cinematographers like Sven Nykvist he made wonderful use of natural light, even deciding on an extra scene when the light or cloud formations suddenly changed (there is a famous example at the end of The Seventh Seal, the so-called "dance of death"). Some of his films are extremely difficult to watch; there is a scene in Cries and Whispers where I invariably have to cover my eyes, and this is not the "death from cancer" scene.
Bergman's first great period was 1957-63, with a succession of brilliant films illustrating his growing religious doubts. The Seventh Seal, Wild Strawberries, Through a Glass Darkly, Winter Light (Tarkovsky's second-favourite film), and The Silence, are all spellbinding. A slightly more positive note is provided by The Virgin Spring, a re-telling of an old legend about a miraculous spring of water following the rape and murder of a young girl. In the first and last-named of these films Bergman conjures up a totally convincing picture of medieval life.
The following 20 years produced many more films, the best being the stunningly enigmatic Persona (with the most erotic scene I know in any film, and it is entirely spoken), the Chekhovian drama Cries and Whispers, and the absorbing semi-autobiographical family saga Fanny and Alexander, whose popular as well as critical success resulted in four Oscars.
Antonioni, one of a string of great Italian directors who included Rossellini, Fellini, Visconti, and de Sica, had a career similar to Bergman's in that he made a number of relatively minor films before bursting on to the international stage. This was with L'Avventura, loudly booed at its first screening at Cannes in 1960 because its story seemed to be "nothing happens, slowly". Initial audiences did not take kindly to what started off as a mystery about a disappearing girl, but drifted into extended scenes with groups of characters mooning about in Sicilian landscapes. Its brilliant portrayal of postwar alienation among the leisured classes quickly entranced the critics, who voted it the second-best film of all time in the 1962 Sight and Sound poll. It became the first of a trilogy, the sequels being the less impressive La Notte and the superb L'Eclisse, with its famous extended closing sequence in which neither of the two main characters turn up to a prearranged meeting. Antonioni never equalled the peak of L'Avventura and L'Eclisse, but in 1975 the best of his English-language films, The Passenger, starring Jack Nicholson as a journalist who takes on the identity of a recently-dead near-lookalike, ended with an extraordinary 7-minute penultimate shot, with a seemingly-impossible camera movement, which took days to set up. His London-set film, Blow Up, made a big stir at the time but now seems very dated. Antonioni also influenced Tarkovsky, but in a different manner from Bergman; it was more the stunning extended shots of landscapes rather than the psychological traumas of the characters.
Though Bergman and Antonioni were, apart from the French nouvelle vague, the two great innovators of around 1960, they were very different. Bergman's films are full of close-ups, suitable for the TV screen, while Antonioni's feature small figures in impressive landscapes or cityscapes, seen to best advantage on a big screen. Bergman's films could be set in any era, while Antonioni's are specifically post-WW2, and thus tend to date more quickly. Bergman's films are generally shorter, apart from his "made for TV" ones like Scenes from a Marriage and Fanny and Alexander.
After the passing of these two greats, it is the nouvelle vague practitioners who comprise most of the survivors of that 1950s generation: Godard and the three R's (Resnais, Rivette, Rohmer), plus Andrzej Wajda and one or two lesser-known directors. At the time of writing (2007) all these are still working. As is the amazing Portuguese Manoel de Oliveira, approaching his centenary after a career lasting nearly 80 years.
But let us raise our glasses to Ingmar and to Michelangelo, without whom cinema today would be a lesser art.