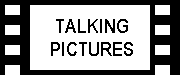 The last 10 or 15 years have spawned a surprising number of books on the topic of religion and the cinema. Some of these are highly academic tomes which purport to find profound religious significance in the more juvenile Hollywood blockbuster movies; to me these are forced and unconvincing. Baughís book is of the other kind; the films he considers are generally serious ones, several of which were also very popular. As he is a Catholic priest who teaches Film Studies and Theology in Rome, he brings a trained theologianís eye to some interesting, and sometimes quite surprising, films.
The book is in two parts, the "Jesus-Film" and the "Christ-Figure", and along with others who take an interest in the subject he concludes that the former is generally far less satisfactory than the latter. The portrayal of Jesus on film is notoriously difficult, and Baugh is not alone in finding the only outstanding film of this type to be Pasoliniís Gospel According to St. Matthew, to which an entire chapter is devoted. His greatest scorn is reserved for Hollywood-style productions like Stevensí The Greatest Story Ever Told, with their reliance on big-name stars, and emotional effects like close-ups, angelic choirs, ponderous speaking styles, and huge crowds of extras, and he points out that much of their content is non-biblical anyway. He gives qualified approval to a film Iíve not seen, Rosselliniís The Messiah, which has hardly ever been shown outside Italian or French TV.
In the "Christ-Figure" part of the book, Baugh points out what others have noted, namely that the most satisfactory way to represent Jesus on film is via the Passion Play idea. A chapter is devoted to perhaps the best example, Arcandís brilliant Jesus of Montreal, in which a modern Passion Play becomes horrifyingly real. He quotes many details of the film, showing how they correspond with incidents in the life of Jesus according to the gospels.
Three other films have a whole chapter devoted to each of them: Stevensí Shane, Kieslowskiís A Short Film About Love (the expanded version of Decalogue 6), and Bressonís Au Hasard Balthazar, and for each one Baugh tries to provide direct links with the gospels. I find Shane a strange choice; Baugh says it is 'recognized by many as the greatest of all westerns', yet the Sight and Sound poll of 200-odd critics and directors in 1992 found not a single one nominating Shane as among their choice of 10 best films (Fordís The Searchers was mentioned by no fewer than 23). The chapter on A Short Film About Love is a revelation; considered by some as a semi-pornographic movie about a Peeping Tom, Baugh shows how the girl-gazing Tomek is actually a Christ-figure, trying to redeem the Mary Magdalene figure of the girl. I shall watch it with interest next time I have the chance.
The 20-page chapter on Au Hasard Balthazar is, for me, the high point of the book. A film whose critical stock has been rising ever since its release in the mid-1960s, Baugh gives a detailed analysis of how the birth-to-death experiences of the donkey Balthazar correspond with those of Jesus, with the host of human characters displaying all the seven deadly sins in their different ways.
Another chapter considers 'the Woman as Christ-Figure', including discussion of two Fellini films and, surprisingly, Adlonís Bagdad Café. There is an all-too-short chapter on the films of Bresson and Tarkovsky, while an epilogue suggests areas for further study and discusses how the great Carl Dreyer was continually frustrated in his wish to make a Jesus-film, which, for all we know, might well have rivaled Pasoliniís masterpiece.
A few quibbles. The proof-reading is poor: 'principal' is misspelt several times, there are glaring omissions from the index, and commas sometimes appear in the wrong place. Also, there is no filmography of the major films discussed, and only rarely is an actor named: to give obvious examples, it is not mentioned that Shane is played by Alan Ladd, nor that Giulietta Masina plays the Christ-Figures in the two Fellini films (La Strada and Nights of Cabiria). On the other hand, there are nearly 100 pages of endnotes and bibliography.
Overall, this is one of the best books I have seen on this subject, and is recommended to those who take an interest.
---