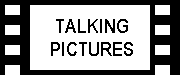 This great slab of a book covers the history of cinema from magic lanterns and early cinema right through to Hollywood special effects and new talent. It also contains a very extensive and useful filmography, bibliography, index and a short Internet and video source guide.
Sklar seems to cover every aspect of film history from the evolution of film technology, the star system, genres, theories, directors, documentaries, animation, world and art cinema, avant-garde, sound, music, important and landmark films, along with their political, social and artistic contexts.
The text is broken into short sections and sub-sections to make it an easy to use reference source, and the illustrations are outstanding. The sections do flow logically through the book so you can read it cover-to-cover, for example in Chapter 8, which looks at 'The Transition to Sound' Sklar covers such topics as sound-on-disc, sound-on-film, amplification, colour and widescreen developments, technicolor, anamorphic lens, aspect ratios and then discusses how Abel Gance used widescreen experimentation for his 1927 masterpiece, Napoleon. This is followed by a look at Murnau's Sunrise (1927) that straddled the silent-to-sound period and included the use of 'old' visual aesthetics combined with the use of sound.
The achievement of Sklar is that he is able to handle so much diverse information and present it in a manner that is easy to assimilate and understand. Since the subject is so vast some topics are only briefly touched upon but you can see where they fit into the fuller picture of world cinema and you can find more details elsewhere.
Although it is a 'road map' to our subject it is not the kind of book you can haul to university or college certainly most students wouldn't be able to afford it; rather it is an attractive yet intelligent coffee table volume that should be left on display with your video or DVD collection.
This is ideal for anyone who wants a basic understanding and reference guide to film history or for anyone contemplating a film or media course. Certainly every library should own at least one copy.