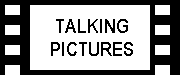 Once I met a young Japanese filmmaker, Yasaki Hitoshi, who said he made films to give people their memories back. That is what Lynne Ramsay did with Ratcatcher, her beautiful surprise film of 1999.
Moments like when Margaret Anne, a girl too old for her age, let James Gillespie, the 12 year old main character, touch the small crust on her knee. Or his friend Kenny, who is fond of animals and behaves like a little old man, and so isolates himself.
Everybody knows characters like this from his/her own youth.
For readers who haven't seen Ratcatcher yet, it's about James, superbly played by William Eadie, who grows up in a grim council estate in Glasgow. The story is set against the backdrop of a dustmen's strike. Waste bags are piling up in the streets, attracting rats, hence the title. The story starts when James' best friend Ryan drowns in the river near his house. During the rest of the film he tries to come to terms with this sad incident.
Ratcatcher is not told in a linear way, but is divided in to ten days out of James' life.
The film is in essence about a perceptive and imaginative boy, growing up in a gritty and tough working-class milieu, where sensitivity is not a virtue. Lynne Ramsay tackles this difficult subject in a truthful and insightful way.
All the characters, who are non-professional actors, are carefully drawn, in a very subtle way, with a great eye for significant detail.
Ramsay shows a profound understanding and compassion for the people in her film, without being sentimental or moralistic. A strong side of her approach is a very visual, cinematographic style. You can see she is a photographer and studied camera at the National Film and TV School. Here she made several short films. Her graduation film Small Death won the Cannes Jury Prize. Her other two shorts Kill the Day and Gasman won several International awards.
In an interview with Lizzie Francke (Edinburgh Film Festival), printed in the beginning of the book, Lynne Ramsay says:
"Like any other filmmaker, I am inspired when I see great cinema, Bergman, Fellini, Cassavetes (there is a long list), but the post-modern cut-and-paste job, that's just not me.

Maybe it's naïve, but I still think you can be original."
And that is exactly what Ramsay is. Original and authentic. Expressing her own unique voice in a lyrical and magical way, unheard of in modern Britain.
Therefore it's not right to compare her films with work by Robert Bresson, Bill Douglas, Francois Truffaut (400 Coups) or Terence Davies. Even though the similarities are there, for me Lynne Ramsay is more like James, in the breathtaking scene, in which he visits a newly built house in the suburbs, where he climbs through an open window and runs and rolls through the wheatfield, towards the beautiful sunlight.
Click here for a less favourable view of Ratcatcher.