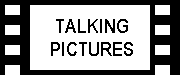 The authors show that Claude Rains was certainly one of the world's foremost character actors. Once relegated to the fringes of frightdom behind the ever-popular Karloff, Lugosi, Chaney and Rathbone, he stepped into the spotlight when he played The Invisible Man, which ironically, made him quite the visible star. Further memorable roles in such films as Mystery of Edwin Drood were to follow. In his own inimitable-way, Rains later became Louis Renault in Casablanca, Julius Caesar in Caesar and Cleopatra and Dr. Dryden in Lawrence of Arabia.
This comprehensive work concentrates on Rains' more than 50 films. However, it also examines his work in other media: the stage, radio, television and recordings. The foreword by Jessica Rains, his only child, includes her memories of her life with him.
There is also a well researched and illustrated biography at the front of the book and this serves well to whet the appetite of readers who may then proceed to go into more details about the aspects of Rains' career by selecting any one of the chronologically listed critiques of the films that he starred in. These film critiques form the main body of the book and are written in an informed but pleasantly readable style. In this way the book may be picked up and put down at will without getting a disjointed perspective on the work of this fine actor, In addition this style of writing also makes this book a welcome source of reference in comparison to some of the more arid tomes that are available for research purposes.
The layout of the photos and illustrations is first class being interspersed as they are within the body of the text pertaining to them rather than being relegated to a photo insert section common to less reader-friendly publications of this ilk.
The chapters dealing with the theatre and concerts, radio, television and recordings of Rains' career are again done in chronological order but are not as prolific as the chapter dealing with his films. However, they are equally as well researched and written and are a fine source of information and reference material for any readers who may wish to have a good foundation from which to pursue their own avenues of enquiry into the realms of the fascinating career of this many faceted character actor.
There is an interesting Afterthoughts chapter towards the rear of this volume with the recollections of the likes of Vincent Sherman, Sir John Gielgud and Kim Hunter who either met and/or worked with Claude Rains. This section complements the overall appreciation of Rains' career that this book so well evokes. It is written with an infectious enthusiasm and high regard for its subject matter and will endear the name of Claude Rains to his stalwart fans and those who might be enamoured by his style. As a further bonus it includes about 80 rare photos and illustrations.