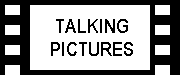 Here is an excellent companion to BFI's Talking Pictures. It provides an insight into the daily grind of producers, directors, cinematographers, actors, designers, composers and distributors. From all the entries doubt is the common factor. Will there be funding, will the director get the right shots on schedule, will the film be a success, will there be another job after this one? Those are the practical problems besides those of artistic satisfaction, achievement or quality (which are rarely mentioned).
We get the highs of premiere screenings down to the lows of getting rejected by Miramax, after a long drawn-out process. All the entries are for 1995, but this is a plus point as many of the films mentioned have been released (Small Faces, Crash, Twelve Monkeys, Institute Benjamenta, Cold Lazarus, Stiff Upper Lips) so we have the benefit of hindsight.
We see the problems of getting a project off the ground (see Christopher Wicking's and Peter Capaldi's entries) and how the production of a film is seen from different perspectives. I was particularly struck by the accounts of the costume designer, John Bloomfield and production designer, Christopher Hobbs who obviously contribute greatly to the look of a picture but tend to be ignored by critics.
Overall this provides a surprisingly gripping and consistently fascinating peep into what it's really like to make movies.