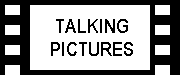 This article is being written just after the 1999 Academy Awards. I have no time at all for the ballyhoo, the cringe-making emotionalism of many of the winners, or the obvious commercial motivation of Academy members (or rather of those who seek to influence their deliberations), even to the extent of frequently rewarding "British" films which turn out to have been made with American money and occasionally to employ American actresses pretending to be English. The shameless promotion by Miramax of Shakespeare in Love has become notorious.
My sole interest in the Oscars is to see whether films I particularly admire might be given a commercial boost by receiving a plethora of awards. Occasionally this happens, as with Unforgiven (1992). Usually it doesn't; in fact a defining moment for me came in 1985, when Akira Kurosawa's Ran, which towered over all other new films released that year, was fobbed off with just one award, for "best costumes". The major winner that year was Out of Africa, an unmemorable film with high production values and pretty scenery, epitomising what the Academy is looking for.
This leads me to a discussion of just what is meant by "best film",according to the Academy. "Best" is meant in a technical sense,with highly skilled craftsmanship, a slickly smooth style, a glossy look, and a worthy subject-matter. There is nothing wrong with having this as a criterion, provided it does not pretend to be synonymous with great art or creative originality. It is seldom that a really bad film wins awards; the unspeakably vile Basic Instinct, for example, was ignored, despite being the biggest box-office success of that year (a depressing reflection on moviegoers' tastes).
An award-winner must also, of course, appeal to a large American public. Thus, despite the fact that any informed and objective assessment of the cinema of the last 70-odd years would agree that the finest films can be split roughly half-and-half between English-language and foreign ones, not a single foreign film has ever won the "best film" award, although one or two have been nominated. Only Roberto Begnini for Life is Beautiful, and Sophia Loren for the obscure Two Women, have ever won a Best Actor or Actress award for a foreign film. This reflects the fact that most moviegoers cannot cope with subtitles, or perhaps are not interested in learning about unfamiliar cultures. One intriguing point of interest is that in the 1987 BAFTA awards, the British equivalent of the Oscars, the "best film" was the Italian Cinema Paradiso, while the "best foreign film" was The Sacrifice! Perhaps the latter was deemed to have a certain "foreignness" which the former was deemed not to. I suspect that a similar situation would have arisen had Life is Beautiful's "best film" nomination been
successful in 1999.
Now consider those English-language films which invariably appear near the top of critics' "all-time best" lists. Citizen Kane, which always comes top, won just one Oscar, for its screenplay. Those supreme masterpieces from the 1950s, Hitchcock's Vertigo and Ford's The Searchers, won nothing at all. 2001:A Space Odyssey won just one, for special effects, as did Raging Bull, for Robert DeNiro as Best Actor. Only The Godfather and Godfather II, with 9 awards between them including Best Film for both, redeem the Academy's judgment. To be fair, Vertigo took many years to receive eventual critical acclaim.
Again, look at some of the totally forgettable (and forgotten) Best Film winners of the past. Can anyone remember You Can't Take it With You (1938), Going My Way (1944), Gentleman's Agreement (1947), or Marty (1955)? I have seldom spent a more boring two hours in the cinema than with the multiple-Oscar-winning Terms of Endearment (1983), while the less said about Forrest Gump (1994) or the travesty of Braveheart (1995) the better.
To be fair, several critically-acclaimed gems have also turned out as winners. Apart from the two Godfathers, there was It Happened One Night (1934), The Best Years of our Lives (1946), On the Waterfront (1954), and Lawrence of Arabia (1962). One suspects that they won not because of their enduring critical acclaim, but because they struck a particular chord at the time they came out.
It is also known that the greatest directors have either never won at all, or have won for one of their poorer films. Hitchcock's only "best film" was Rebecca, in which his natural creativity was somewhat submerged by the demands of producer David Selznick. Chaplin did not win at all, although admittedly much of his best work appeared before the Oscars ever started; one suspects that the ignoring of City Lights, Modern Times, and Monsieur Verdoux was in part politically motivated. Ford's only "best film" was the minor How Green was my Valley, while his masterpieces The Searchers and The Man who Shot Liberty Valance won nothing; he did, however, win "best director" 4 times. Apart from his joint screenplay for Citizen Kane, Welles never won a thing, being regarded as too much of an innovative outsider. Howard Hawks' films were also largely ignored, despite the fact that he made what are arguably the two most uproarious comedies of the sound era (Bringing up Baby and His Girl Friday).
I am also puzzled by the difference between "actor" and "supporting actor". When I saw The English Patient, it seemed obvious that the leading actress was Juliette Binoche, yet she received the award for "best supporting actress", while Kristin Scott Thomas, who I felt sure was on-screen for far less time, was nominated for "best actress".
To sum up. To win an Oscar you need, at the very least, a combination of high production values, popularity, and a "worthy" subject-matter, and it helps to have big money backing your nomination. It is also virtually essential to have an English-language film!