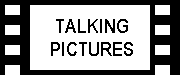 Written by the same writers as 'Sexy Beast' and reuniting the star of that film, Ray Winstone with his mother tongue of cusses and shouting; 44 Inch Chest tells the story of Colin (Winstone) whose wife of 21 years (Joanne Whalley) suddenly falls out of love with him and embarks on an illicit affair with a much younger man. Taken aback by her sudden withdrawl of marriage vows; Colin and his band of good friends take the young man hostage where they hope Colin will do away with him in an abandoned old East end house.

Each one of the friends comes with a different story of status, culture and taste. Meredith (Ian McShane) is the cultured homosexual, who we first meet eyeing the naked body of his latest conquest; Old Man Peanut (John Hurt) is the brash, not with the times old boy; Archie (Tom Wilkinson) is a voice of reason who still lives with his mum and Mal (Stephen Dillane) is the dimmest of the group who acts up and admires Colin and Meredith, the obvious alpha males of the group.

Whilst nowhere near touching the stylishness and vanity of 'Sexy Beast' where the location of Southern Spain lent a certain sheen to proceedings; here the action is reserved for a grimy, abandoned house where the gloom of the setting lends a certain sense of claustrophobia.

Louis Mellis and David Scinto, has written a very stagey screenplay high on dialogue but one that flits with fantasy and flashback to help the narrative thrust; whereas its predecessor was more of a character driven narrative; this takes the idea of middle aged masculinity and 21st century manhood attempting to deconstruct the ideal of it in relation to love and marriage. Here 'man 'is destroyed and then ultimately reborn through the aggression of revenge and love lost.

Whilst the stagey tale may put people off who are expecting something gratutitous in violence, there is certainly enough bad language to admire as the collection of very special British acting talent is a joy to behold. All do credible work, and Winstone can add a great character whose lineage can be drawn from Henry VIII, Falstaff and Othello - grand in gesture, proud in passion and loyal to a tee.

Worth watching for connoisseurs of British gangster drama.

44 INCH CHEST is released on 10 May from Momentum Pictures for £15.99 on DVD and £19.99 on Blu-ray.
Jamie Garwood