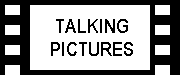 Mexican actor, Diego Luna, most famous for Y Tu Mama Tambien, makes his directorial debut with a script by Augusto Mendoza, with executive production from Gael Garcia Bernal and John Malkovich.

Abel is played by Christopher Ruiz-Esparaza, is a young boy who after the abandonment of his father from the family home has fallen silent and been confined to a mental institute for two years. His mother, Cecilia, feels that a reunion with his siblings Paul and Seline will lead to an improvement in his behaviour and speech. Granted a week's sabatical by the doctor, Abel's speech returns but only in the form of an adult - and the belief he is his own father, the same father who left home. Cecilia feels it is best to encourage such behaviour, so Abel talks to his siblings as if they are his children, and Cecilia dotes on him like any loving wife would.

This leads to funny proceedings and exchanges between the much older Seline and the younger Abel, whilst there is a touching connection between Abel and Paul (played by real life brothers). The doctor comes and states it is okay to carry on, as long as he takes the requisite medication; that is until his father unexpectedly returns to the home. Abel does not recognise the father, believing himself to fit that role; tensions mount as a solution is looked for Abel's condition.

This Oedipal story is told with great deftness and a lightness that marks Luna out as a genuine talent, and the use of the camera at a child's level throughout in the family home and emphasising an adult's presence with the use of low angle to show their height and threat.
Not surprisingly, considering he is a talented actor in his own right, Luna elicits commendable performances from all the cast especially Ruiz-Esparza in the titular role; who is both commanding and affecting.

A film that is both intelligent and entertaining, continuing Latin America's recent renaissance in the cinematic field.

Abel is released by Network Releasing and is Out Now for £19.99RRP, and the DVD is packed with extras: a booklet by London Film festival programmer Maria Delgado; footage of the film's premiere at the LFF in 2010 and a Q&A from the VIVA! Spanish and Latin American Film Festival at Manchester in January 2011 with Luna and producer Pablo Cruz; Chile premiere video diary; stills gallery; trailer. More extras than is usual for such a small title, and an unusual pleasure.


Trailer -

http://www.youtube.com/watch?v=eq4BUFtQgBg
Diego Luna interview -

http://www.youtube.com/watch?v=lMHwSwFFG-s
Jamie Garwood