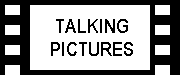 Edward Bloom (Albert Finney) is a robust looking old man who loves to tell stories, in fact he has been telling tall tales all his life to his children, inflating events in his own life to mythic proportions. When Bloom's journalist son Will (Billy Crudup) returns to his parent's house on hearing that his father is dying of cancer, he is determined to separate fact from fiction and get to know the father who was never around when he was growing up. Based on a semi-autobiographical novel by Daniel Wallace and adapted for the screen by John August Big Fish, the latest by Tim Burton (Edward Scissorhands, Ed Wood), is a beautifully looking film that has its engines going full blast but never seems to achieve lift off. I am drawn to films that have a surreal vision of an alternate reality, but Big Fish force-feeds it to us rather than subtly evoking a sense of magic.

The film is told in flashback as Will and his pregnant French wife Josephine (Marion Cotillard) recall the stories his father had told him all his life. We first see young Edward (Ewan McGregor) as a sports hero and science fair winner in Ashton, Alabama then, after leaving Ashton with a gentle giant named Karl, encountering the inhabitants of a wondrous town called Spectre where everyone walks around barefoot and is full of joy. Although vowing to return one day to Spectre, Edward moves on and agrees to work for a circus manager (Danny de Vito) in return for information about Sandra (Alison Lohman), a girl he has fallen in love with. Eventually he finds her at Auburn University and, in one of the best scenes in the film, courts her with 10,000 daffodils to prove his love.

After Edward is drafted to fight in the Korean War, he rescues conjoined twin entertainers, Ping and Jing and brings them home to work in the circus. At this point, it just continues from one off-the-wall sequence to another until its grand Fellini-esque final sequence. Unfortunately, despite some high expectations, I was unmoved by the ending. I did not find anything lovable about Bloom and feel that the theme of father-son reconciliation was handled much more convincingly in The Barbarian Invasions by Denis Arcand. While Big Fish has some fine performances and outstanding special effects, it did not instill in me any true sense of wonder or authentic emotion. Sadly, Big Fish is dead in the water.


Information about the Big Fish novel can be seen here.