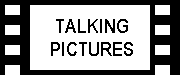 The idiosyncratic director Lars Von Trier continues to pursue his theme of the fraught woman ostracised and persecuted by her community, a set up familiar from Von Trier's Breaking the Waves (1996) and Dancer in the Dark (2000). I may be straining to make connections here, but this is also a recurrent theme in Kidman's recent work, with her role as Satine in Moulin Rouge (2001) and her portrayal of Virginia Woolf in The Hours (2002) both symbols of female martyrdom. After Kidman's flamboyant, scenery chewing turns in those two films, she is much more withdrawn figure here. As the mysterious Grace, she arrives in the small American town of Dogville as a dishevelled figure, her bloodshot eyes hinting at the pain and suffering that she has experienced, and the horrors yet to come.

Technically, the film continues in the tradition of the 'Dogme' filmmaking collective, initiated by Thomas Vinterberg's Festen (1998) and Von Trier's The Idiots (1998), which basically aimed to strip away many of the techniques associated with fiction filmmaking in order to tell a story in the most natural way possible. Instead of removing devices like lighting and source music (as witnessed in Festen and The Idiots), Dogville eschews location work, with the entire film contained in one studio for its nearly three hour running time. The film is highly stylised, with the town consisting primarily of chalk outlines of buildings, which the characters treat as real (we even hear sound effects for things that don't exist) but that the audience can see through, allowing us to 'see through' this community. To be honest, this style grated on me at first and distanced me from the story, but there's one shocking moment where our ability to see in the residents' houses jolts us into attention and makes us wonder what else goes on behind the doors of every 'ordinary' community.

The film is packed with a terrific cast, from Hollywood veterans like Lauren Bacall and Ben Gazzara, to relative newcomers like Paul Bettany and Jeremy Davies, while also featuring regular Von Trier collaborators like Stellan Skarsgard and Jean-Marc Barr. Many will, I'm sure, hotly debate whether Dogville is a savage indictment of American life, a bold formal experiment, a glorified actors workshop or a pretentious film that simplifies complex issues. Judging by Dogville, and much of Von Trier's past work, the director is obviously interested in the destructive potential of seemingly peaceful communities. However, this isn't something that's confined to America, and Von Trier has looked at other communities outside the US that turn on an individual amongst them. The Scotland-based Breaking the Waves is an obvious example of this, but The Idiots, set in Denmark, concerns a commune isolates itself from bourgeois society. However, when a female newcomer is admitted to this commune, she is ostracised by her family. However, with Dancer in the Dark and now Dogville, Von Trier has (for whatever reason) decided to focus specifically on America, with this film apparently being the first in a proposed trilogy about American life.