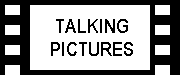 Mulachy that Antipodean visionary, who started his career by trying to drown Simon Le Bon of Duran Duran and who has leant his name to 'Highlander' and 'The Shadow' brings to us this spirited mix of gangster and film noir action pictures.

Starring Thomas Jane, that B-list chin who cannot find a niche, and Ving Rhames, famous for his support in Mission:Impossible; it tells the story of Malone (Jane) who steals a Macguffin briefcase that belongs to the mob and the ensuing turf war that takes over the city.

Establishing this as a pastiche of 40s and 50s detective dramas set in the present day it mixes Frank Miller (Sin City) in for good measure, meaning licence for gruesome bloodbaths are on the menu. The humour (and the film is funny) derives from the characters not caring that they are from a different time stuck in this new century; with all their mannerisms and characteristics drawing laughs yet getting results.

Jane (better in 'The Punisher' than you remember) is impressive bringing real grit to the down at heel would be Sam Spade, and Rhames has a whale of a time chomping up the scenery in his strong supporting role.

A straight to DVD film, but nevertheless a film with merit that garners some attention from the general public; whilst fans of 'Sin City' and 'The Spirit' will eat it up, and hopefully this release from Momentum Pictures will help with that.
Jamie Garwood