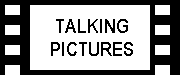 Martin Scorsese's seminal picture from 1976 is granted a reissue and re-release in a new stunning print 4k digital restoration (under the guidance of Grover Crisp at Sony Pictures) with a run in selected cinemas to mark the 35th anniversary of its initial release back during the last Golden Age of Hollywood.

Oddly, for a cinema buff, Taxi Driver is one of those films I have never gotten round to seeing; partly due to the fact that because it is constantly listed as one of the great films of all time, you see clips so you feel you have already seen the film. Of course, this is a silly opresumption and you need to see the film in its entirety to make a real critical judgment - seeing it on the big screen will naturally serve this purpose.

When watching Taxi Driver you are immediately struck by the forcefulness of Robert De Niro's central performance as the now-iconic Travis Bickle, in both his charisma and the menacing voiceover -where he talks of whores, scum and wishes they could all wash away into the sewers.

For a film that is so revered due to the notion of it being different to anything else, it follows a distinct three act structure - with Travis' persona altering for each specific act.

In the first act, you see the pro-active and resourceful Travis who is nice to people, wants to work hard and take the beautiful Betsy (Cybill Shepherd) on a date.

When Betsy refuses his advances and stops returning his calls you get the angry and frustrated Travis - the one who purchases guns, and talks to Secret Service agents. Tellingly, the frustrated Travis has two key moments when he meets Senator Palantine in his cab, voices his disapprovals of the world and halts the politician in his tracks with his brutal honesty and the memorable 'You talkin' to me!' scene, which has been parodied and mimicked to kingdom come.

The third act is vengeful Travis, when he takes it upon himself to save Iris (Jodie Foster) from the clutches of Sport (Harvey Keitel), donning a mohawk and a glint in his eye, Travis goes into the whorehouse and shoots just about everyone in sight and Iris being saved whilst her tormentors are killed.

The film won the Palme D'Or at Cannes in 1976 and you can see why it was such a hit upon the European scene as it exhibits European sensibilities - though pretty explicit in its depiction of violence and having flashpoints of violence or menace throughout, these scenes are followed almost repeatedly by moments of Travis in quiet contemplation and reflection.

The script written by Paul Schrader, is brilliant, but Schrader has made clear his profound respect for the work of such auteurs Carl Dreyer, Robert Bresson and Ozu - all directors who combine a mixture of faith and use long periods of stillness to offset more appropriate action; one such moment is when Travis plays with rocking his television back and forth on the table it sits on until the point that momentum forces it to fall backwards and explode. By that time, Travis is done with society and the destruction of the television, his last link (or window) to the outside world is gone and he is only with himself and his actions, which ultimately ends in the bloodbath.

I was also reminded of something I read in regards to Travis as an extension or continuation of characters like Ethan Edwards/John Wayne in The Searchers (1956), an avenging angel (hence all the talk of religion and faith) with Travis saving Jodie from the Other, much like Ethan saved Natalie Wood from the Indians who kidnapped her. The idea of an avenging angel or saving grace is a familiar theme in westerns, but the planting said angel in a city landscape makes Travis more an anti-hero because of his mental unstability and fragility, much like Ethan. However, whereas Ethan became unhinged due to serving in the Civil War and not knowing his role; Travis served in Vietnam and has returned to work but is unhappy with the way of the world and wants to change it, even if it means doing something as disbelieving as unsettle a Presidential candidate. His belief is that if he saves Iris, he could be branded a hero, something he was not upon his return from Vietnam.

De Niro is mesmerising in his career defining role and the score by the renowned Bernard Herrmann is both pulsating and unsettling in its sense of mood. However, this remains Scorsese's calling card to the world following on from the rawness of Mean Streets and the made-for-hire work like Alice Doesn't Live Here Anymore; there is still the rawness of the former title yet with more polish and acumen and photographed in a style to match the work of Coppola, especially The Conversation. If you have the opportunity to see it on the big screen, I recommend the Curzon Soho who have it on for a week minimum, then do so and experience one of the great films of the 1970s and one of the great works by a great director.

Taxi Driver was released by Park Circus Films on Friday 13th May 2011 in London, Edinburgh, Dublin and key cities, and is certified 18.

Jamie Garwood