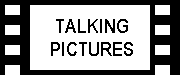 I will level with you - my main reason for wanting to see The Fly was that I had seen the Simpsons spoof and found it hilarious. So when I noticed it was on T.V I couldn't pass up the oppurtunity.

The Fly is the story of Andre Delambre (David Hedison), a scientist, who discovers a way to transport matter. Excited by the possibilities he runs lots of tests on objects and animals of increasing magnitude ending with himself. It's difficult to say much more without giving away the plot, but it's safe to say things don't go quite to plan.

Probably because of my association with The Simpsons I expected this to be a happy film. It's not; it's at the best of times downbeat. But the acting is very moving, particularly from Patricia Owens, who plays the scientist's wife Helene, as she comes to terms with what has happened with to her husband. Vincent Price, who plays Andre's brother Francois, is also good as a man who doesn't quite know what to think but wants to believe the best in people.

There are also a lot of deeper meanings in this film; like a big warning against playing God and to be contented with what you have. Although there are a few unsatisfactory plot points (again, I can't say without giving it away but if you watch it you'll know what I mean), this film is packed with excitement, poignancy and lots of 'make you think' moments. Don't watch it if you want a happy film.


Chloe Walker