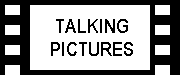 Paul Meehan's book Saucer Movies concerns itself with films with extraterrestrial themes, which have included such Hollywood blockbusters as Star Wars, E.T. and Independence Day. These three films and the popularity of the genre in general, show to what degree modem culture is obsessed with the idea of contact with alien life. However, don't let the title of the book deceive you. Coverage is also given to ufological TV and radio shows. The Invaders, The Outer Limits, The Twilight Zone and The X-Files are included for TV aficionados, and Orson Welles' legendary 1938 radio broadcast of The War of the Worlds amongst others will please radio buffs.
Saucer Movies deals with UFO films, investigating them in their own subtle context of UFO mythology. The only criticism that I can really level at the book which deals with its subject so succinctly and in such an interesting and addictive manner, is that it lacks illustrations. For such a visual subject this should encourage the reader to visit their nearest library to satisfy their curiosity (this may not be such a bad thing). Though I do feel that some illustrations within the book would help our appreciation and understanding of this fascinating facet of filmmaking.
More than 300 films are analysed in terms of their formal aesthetic practices and their relationship to purported alien contact events. The films are discussed chronologically and they are presented parallel to sentiments about UFOs from the late 19th century to the present, beginning with The Astronomer's Dream in 1898 to Contact in 1997. The book has an excellent filmography listing the film title, key cast, crew members, year and country of original release, and total running time.
Paul Meehan considers the representations of individuals and government institutions in films such as Close Encounters of the Third Kind and Roswell, while also considering the significance of the debate concerning UFO contact, government conspiracies and UFO indoctrination.
The layout of the book is first class and the chapter contents are at once both interesting informative and complimentary covering as they do First Contact (1896-1944), Invasion (1945-1959), Interregnum (1960- 1969), Low Technology (1970-1976), High Technology (1977-1984), The Abduction Scenario (1985-1993) and Science Fiction (1994-1997).
The book provides both a thoughtful and insightful read into the ufological history of the cinema and its subsequent representation both on the cinema screen and television screens in our homes.