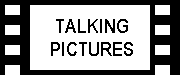 Star Wars
The Genesis of a Legend
By Dean Conrad
Large format paperback, 58 pages, index, bibliography.
ISBN 0-951 6251-6-0
Star Wars put real heroes and adventure back on the cinema screen and created a worldwide phenomenon.
Dean Conrad provides the ultimate guide to the literary, film, science fiction and comedy influences that shaped George Lucas' vision. He reveals the many factors that make Star Wars so appealing for the general reader and the 'seasoned' enthusiast.
Originally priced at £12.99 get your copy for only £4.99 (UK) or £9.99 (elsewhere), price includes p&p.
To benefit from this limited offer post your order with cheque or money order made out to VALIS BOOKS here, or email for further details and bulk discounts.