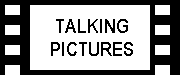 1977
(Colour- 94 mins.)
Director Woody Allen
Producer Charles H. Joffe
Screenplay Woody Allen and Marshall Brickman
Assistant Directors Fred T. Gallo, Fred Blankein
Photography Gordon Willis
Art Direction Mel Bourne
Animated Sequences Chris Ishii
Editor Ralph Rosenblum
Costume Design Ruth Morley
Associate Producer Fred T. Gallo
Executive Producer Robert Greenhut
CAST: Woody Allen (Alvy Singer), Diane Keaton (Annie Hall), Tony Roberts (Rob), Carol Kane (Allison), Paul Simon (Tony Lacey), Shelley Duvall (Pam), Janet Margolin (Robin), Colleen Dewhurst (Mom Hall), Christopher Walken (Duane Hall), Donald Symington (Dad Hall), Helen Ludlam (Grammy Hall), Mordecai Lawner (Alvy's Father - Leo), Joan Newman (Alvy's Mother), Jonathan Munk (Alvy Aged 9), Ruth Volner (Alvy's Aunt), Martin Rosenblatt (Alvy's Uncle), Hy Anzell (Joey Nichols), Rashel Novikoff (Aunt Tessie), Russell Horton (Man in Cinema Queue), Marshall McLuhan (Himself), Christine Jones (Dorrie), Mary Boylan (Miss Reed), Wendy Girard (Janet), John Doumanian (Coke Fiend), Bob Maroff (Man 1 Outside Cinema), Rick Petrucelli (Man 2 Outside Cinema), Lee Callahan (Ticket Seller), Chris Gambel (Doctor), Dick Cavett (Himself), Mark Lenard (Navy Officer), Dan Ruskin (Comedian at Rally), John Glover (Actor-Boyfriend Jerry), Bernie Styles (Comic's Agent), Johnny Haymer (Comic), Ved Bandhu (Maharishi), John Dennis Johnson (L.A. Policeman), Lauri Bird (Tony Lacey's Girlfriend), Jim McKrell (Party Guest), Jeff Goldblum (Party Guest), William Callaway (Party Guest), Roger Newman (Party Guest), Alan Landers (Party Guest), Jean Sarah Frost (Party Guest), Vince O'Brien (Hotel Doctor), Humphrey Davis (Alvy's Psychiatrist), Veronica Radburn (Annie's Psychiatrist), Robin Mary Paris (Actress in Rehearsal), Charles Levin (Actor in Rehearsal), Wayne Carson (Rehearsal Stage Manager), Michael Karm (Rehearsal Director), Petronia Johnson (Tony's Date at Nightclub), Shaun Casey (Tony's Date at Nightclub), Ricardo Bertoni (Waiter 1 at Nightclub), Michael Aronin (Waiter 2 at Nightclub), Lou Picetti (Street Stranger), Loretta Tupper (Street Stranger), James Burge (Street Stranger), Shelly Hack (Street Stranger), Albert Ottenheimer (Street Stranger), Paula Trueman (Street Stranger), Beverly D'Angelo (Actress in Rob's TV Show).
SUMMARY
Alvy Singer, talking directly to camera, ruminates about the nature of life and takes this opportunity to reflect upon his life. There are flashbacks to Alvy's childhood, where we see him fearing that the universe is expanding, and that life is meaningless. He regards his former teachers and classmates as idiots and jerks. Their sexual hang- ups and pitiful adult lives, are contrasted with his appearance on the Dick Cavett talk show.
The story of Alvy and Annie's relationship, starts at this point. After a game of tennis with his best friend, Rob, Alvy talks about the way he is marked out as a Jew. He then goes to meet Annie outside a cinema. As he waits for her, a man recognises him as a TV celebrity, much to Alvy's embarrassment.
Annie arrives late, so they go to see The Sorrow and the Pity (1969). This appears to be sometime in the middle of their relationship, and at this junction they are experiencing some form of sexual problem. A flashback to Allison, a former girlfriend, shows him discussing the Kennedy assassination to avoid having sex with her. We then see Annie and Alvy trying to catch lobsters, that have escaped in the kitchen of a beach house. They are both in a joyful mood. We then have flashbacks to Annie's former boyfriends, whom Alvy regards as moronic. There is a flashback to Alvy's sexually frigid, former wife.
The first encounter between Annie and Alvy is shown. They meet at the tennis club, and are introduced by Rob. Alvy goes back to her flat and they arrange a date. On the date she sings at a nightclub, where everyone ignores her except Alvy, afterwards they go for a meal and end up in bed.
Alvy introduces Annie to books about death, he says life is "horrible and miserable" we are lucky if we are just miserable. He is hostile when she moves into his apartment. He discovers she can only have sex with him if she smokes grass, otherwise she is frigid.
There is a flashback to a third rate comedian, whom Alvy has to write jokes for, he doesn't have the nerve to tell his own jokes. Forwards in time we see him doing a stand-up comedy routine in front of a huge audience, and Annie is impressed by his performance. He has obviously got the nerve now.
At a meal, held by the Hall family, Alvy feels a total outsider. Grammy Hall is a "classic Jew hater ." The rot now sets in, Alvy is accused of being paranoid, and of suffocating Annie. He asks passers-by in the street for their advice, and is told that "love fades". An animated sequence has Annie telling him that he's "no fun anymore". He tries to forget Annie by going on a date with a Rolling Stone photographer who raves about Bob Dylan and The Stones. He goes to bed with her, but at 3am Annie rings saying there is an emergency. Alvy rushes to Annie's flat, where she wants him to kill a spider in her bathroom. When he has clumsily disposed of the spider, she confesses that she misses him and they decide to get back together again.
Annie, Alvy and Rob, visit the old roller coaster where Alvy used to live. There are flashbacks to his parents arguing, and to a family party in 1945. Annie is given underwear and a watch for her birthday. She sings in a nightclub where she is "sensational", afterwards a record producer, Tony Lacey, invites them to a party with "Jack and Angelica" (Nicholson and Houston). Alvy snubs the invite, but Annie wanted to go.
Under analysis the differences between Annie and Alvy are revealed. They go to a party where there is coke from California, thus it is already signposted as a corrupt place. They go to California for Christmas. Rob is now a successful TV producer w ho uses canned laughter on his shows, much to Alvy's horror. California makes Alvy ill, but they go to a flashy party held by Tony Lacey. Tony calls New York dirty.
Annie enjoyed meeting people and having fun in California. Alvy and Annie agree to split-up, she moves out of his apartment. Not long afterwards he wants Annie back. There is a flashback to a disastrous date, where he tries to re-enact the lobster scene with a woman who doesn't understand if he's joking or not.
Alvy goes to California, where Annie is now living with Tony. She has lost weight, is more confident, and is enjoying life in California. She rejects his proposal of marriage, but wants to remain friends. Afterwards, he crashes his rented car and ends up in jail. His friend, Rob, bails him out.
Two young people rehearse a play, the dialogue is virtually a repeat of that between Alvy and Annie in California. This time, however, the woman agrees to go with the man. Alvy tells us this is his first play, and in art you can make things perfect.
Annie is now back in New York, a voice over by Alvy tells us that they had a meal together, not long after she returned. There is a montage of images from their relationship together. Over pictures of them leaving the restaurant he tells us a joke about a man w ho complains to a psychiatrist that his brother thinks he's a chicken. "Well, why don't you turn him in?" says the doctor. The man replies, "I would, but I need the eggs." To Alvy this sums up relationships, and we suffer them because we all "need the eggs."
GENESIS
Marshall Brickman and Woody Allen had intended to write a Spencer Tracy/Kathryn Hepburn style comedy set in Victorian England. Woody abruptly cancelled the project, and the concept of Annie Hall truly began when they decided to do a film set in Allen's mind. This gave them the opportunity to explore dream, fantasy and surreal sequences mixed with childhood flashbacks.
IN PRODUCTION
Shooting began on 19 May 1976, on Long Island, with the sequence where Alvy and Annie try to boil lobsters. Shooting continued over the next ten months. Things, however, did not go smoothly. For half a day 200 extras were kept waiting for filming at Coney Island, and eventually they were sent home without a foot of film being shot.

For the cinema queue scene Woody's first choice was Federico Fellini, when he turned the offer down Luis Bunuel was invited, but he also rebuffed him. In the end Marshall McLuhan agreed to do the scene.
When they came to shoot the scene they discovered that Marshall was no screen natural, and he had to return for retakes. To make things worse Woody acted in a very cold manner towards Marshall, and the scene was considerably shortened and edited for the final film. Other members of the cast also complained that Woody hardly spoke to them or acknowledged their existence. Another problem that was to surface later, was that the cinematographer, Gordon Willis, shot the Californian sequences in a golden light, dream sequences in a glossy forties Hollywood style, and grey and cloudy for the Manhattan scenes. After editing these were rather redundant.
THE CUTTING ROOM FLOOR
The film's editor Ralph Rosenblum regarded the first version of the film as being 'an untitled and chaotic collection of bits and pieces that seemed to defy continuity, bewilder its creators, and, of all Allen's films, (held) the least promise for popular success.'
The opening monologue was much longer in the first version, and it had more flashbacks to his childhood. One sequence was a pastiche of Invasion of the Body Snatchers (1955) in which his mother complained that 'the element' had moved into their neighbourhood. When he returns to the old neighbourhood he is able to stop a fight between a small guy and a bully because he is recognised as a TV star .
In the process of editing, scenes involving Alvy's first two wives, a tour of the nine levels of Hell, and two adolescent crushes were also cut. The latter scenes featured an eleven-year-old Brooke Shields, and a seventeen-year old Stacey Nelkin. In the scene with Brooke Shields (Judy Horowitz), Alvy has a date with her and sees her in the present day as obese with children milling around her legs. When Alvy has the chance to use a condom in a fantasy sequence with Stacey Nelkin, it crumbles into pieces. In real life Nelkin, who regarded herself as a sophisticated young woman, had a two-year relationship with forty-one year old Woody. He never acknowledged her publicly, but she was to become a strong influence on his script for Manhattan.
Even more provocative, in the light of future events, there was a sequence where the young Alvy pretends to be ill to skip school. His well-endowed cousin, Doris, looks after him by reading war comic books to him. In the course of this she says, " Alvy you're drooling."
Another deleted sequence had Alvy fantasising about being a Resistance fighter under interrogation at S.S. headquarters. When they use a gun to jog his memory , Alvy gets a puppet out of his pocket and says: "I cannot name names. But he can." This is transmuted, in the final version, to Alvy quipping to Annie: "If the Gestapo would take away your Bloomingdale's charge card, you'd tell them everything."
As Rosenblum continued editing Diane Keaton's role became more prominent, and the film became more of a love story between her and Allen.
Using this new version Woody shot some new sequences, and re-shot others to fit the new format. The most difficult part of this process was finding a suitable ending.
THE END
One ending had Alvy passing a billboard in Times Square, which lights up with the words, 'What are you doing, Alvy? Go, to California. It's OK. She loves you.' This was so depressing for Woody that it is reputed that he threw the film reels of it into the Central Park reservoir.
Rosenblum again came to the rescue and suggested a montage of Alvy's and Annie's relationship, followed by a short monologue. The memorable last lines of the movie, about needing the eggs, were written by Woody on his way to the editing suite.
IN MY LIFE
Alvy Singer became immediately identified as a portrayal of Woody Allen the 'real' person. He strongly denied this and observed that the script was co-written by Marshall Brickman. The flaw in his protestations is that the film is full of autobiographical details and references:

Woody's pet hates, teachers, school, former school 'mates', the West Coast, TV, successful men are showcased. He even has a dig at pseudo intellectuals; Alvy is trapped in a cinema line, and gets increasingly irritated by a man lecturing his girlfriend on Fellini and Marshall McLuhan. Alvy brings out the real McLuhan w ho shoots down the bore's theories, and Alvy confides in us, "Boy, if life were only like this."
Annie Hall was originally scripted as a smart New York journalist, but became based on the wide-eyed and naive Diane Keaton w hen she first met Woody
Diane Keaton's real surname is Hall, and there really is a Grammy Hall. Woody had even visited the Hall's home for a Thanksgiving meal, much like the one featured in Annie Hall
Woody took it upon himself to educate Diane Keaton about the Big Apple, philosophy and books. He even suggested she undertake analysis and offered to pay for the sessions. Alvy did the same with Annie Hall. Much to Alvy's chagrin, she progresses faster under analysis
Woody lived briefly with Diane Keaton, just like Alvy and Annie
Alvy Singer is a stand-up comedian, as was Woody until his film career took off. He was also a comedy writer, and he mocks this part of his career, in a scene where a bad comic runs through his act
In the mid-1960s Woody had a relationship with folk singer Judy Henske. She was born in Chippewa Falls, Wisconsin. This is the fictional birthplace for Annie Hall
To avoid being recognised when booking hotel or restaurant reservations, Woody would call himself Max. In Annie Hall, Rob calls Alvy, Max.

Ten years after the release of the film, Woody still maintained that it was not autobiographical, , ...it's so exaggerated that it's virtually meaningless to the people upon whom these little nuances are based. People got it into their heads that Annie Hall was autobiographical, and I couldn't convince them it wasn't.
Woody put so much of his self on the screen, that you have to agree with Diane Keaton's father, Jack Hall, "It's 85 per cent true."
TITLE DEEDS
Woody Allen favoured Anhedonia as the title for this production, and it was changed only three weeks before it's first screening at the Los Angeles Film Festival, Filmex, in March 1977.
Co-screenwriter Marshall Brickman veered from the pretentious to the out rightly ridiculous with, It Had to Be Jew and, Me and My Goy, as his suggestions.
When one of the United Artists executives, Eric Pleskow, heard that Woody wanted to call the film Anhedonia he exclaimed: "You can't be serious." He had to look the word up in a dictionary to find that it meant the inability to enjoy pleasure - the opposite of hedonism.
Woody was determined to have his way, but at test screenings he did allow different titles to be tried out. Anhedonia got blank reactions, Anxiety got a few laughs, but there were positive responses towards Annie and Alvy and Annie Hall. Eric Pleskow did not regard Annie Hall as a very catchy title, but anything was probably better than Anhedonia.
INFLUENCED BY
The idea for the silent opening credits came from The Front ( 1976). Federico Fellini's autobiographical film 8 1/2 (1963) contained the longing for past, and no longer obtainable, happiness that Woody wanted to express. Later he was to make a self -deprecating joke about, this influence, "It's more like my 2 1/2. "
A lesser influence came from Mike Nichols' Carnel Knowledge (1971), which contrasts (the sex lives of two middle-aged men, from their college days to the present.
Alvy Singer speaks directly to camera, much like Michael Caine's character who brags about his sexual conquests, in the' swinging London' movie, Alfie (1966).
The original intention of creating a mosaic of a man's life as he looked back over the years, is strongly reminiscent of the flashback structure of Citizen Kane (1941).
The Godfather (1971) was the more surprising inspiration for the fragmentised and repeated flashbacks. The link with The Godfather is even stronger since it's cinematographer, Gordon WiIlis was used by Allen. His nickname was 'The Prince of Darkness' due to his, dark, brooding photography. Diane Keaton also appears in The Godfather, The Godfather. Part II (1974) and The Godfather, Part III (1990). There is also a gag about The Godfather in Annie Hall.
INFLUENCE ON
Diane Keaton's unusual fashion outfits, which featured waistcoats, men's ties, baggy trousers with braces, and fedora hats, caught the public imagination. Her throw-together fashion statements gave rise to a chain of Annie Look boutiques, but women soon discovered they could get the same look from charity shops or from an unsuspecting man's wardrobe.
Steve Martin's L.A. Story (1991) features communication with an electronic freeway sign which brings to mind the original ending of Annie Hall.
Woody showed that psychiatry, pomposity and self-analysis can be funny, and this recipe is used to good effect in the TV sitcom Frasier . The main character's brother Niles Crane, is as nerdish and unsuccessful with women as Woody's screen persona. The bespectacled character of Millhouse in The Simpsons animation series can also be traced back to Woody.
The 'comic' exploration of relationships and sexuality, combined with witty dialogue, pioneered the way for such sitcoms as Friends and Ally McBeal.
PROMOTING
Woody Allen disapproved of traditional Hollywood marketing and advertising strategies, and especially promotional tours. His attitude was that "Either people will come or they won't." Indeed, at a Toronto press conference Woody was asked if he enjoyed making Annie Hall, and replied, "No, it was a boring movie to make." No wonder U.A. executives regarded advertising his films as like committing suicide with a smile on your face.
The advertising slogan for the US market was' A Nervous Romance'.
BOX OFFICE
In the decade after its release Annie Hall grossed $100 million worldwide, which probably makes it Woody's most commercially successful film.
AWARDS
Annie Hall received five Oscar nominations, but Woody had no intention of attending the 50th annual Academy Awards ceremony on 4 April 1978. Instead of being at the Dorothy Chandler Pavilion, Los Angeles, he made it clear that he would be playing Jazz with his band, as usual, in Michael's Pub, New York. He scornfully told the press "If it were a special occasion or something, I might do it. But I'm not interested in an inanimate statuette of a little bald man. I like something with long, blonde curls."
He might have said these words from fear of rejection, as he probably thought he didn't have much of a chance against such strong Oscar competition as Julia, Star Wars and Close Encounters of the Third Kind. Whatever the reason, his stance was so negative towards the Oscars that he had unwittingly set a pattern for boycotting all future Academy Award ceremonies.
On the big night, the best actor award went to Richard Dreyfuss, not to Woody Allen, but Annie Hall did get Oscars for best picture, actress (Diane Keaton), director, and original screenplay. Allen's statuettes ended up in his parents china cabinet, as he refused to collect them or put them in his home.
CONTROVERSY
Alvy's love for a stereotypical, blonde, blue-eyed WASP beauty brought some indignant remarks from members of the Jewish community. One view was that, 'The shiksa was the forbidden fruit therefore it represented everything that was exotic, mainstream, American...'
A school friend of Woody, Jack Victor, held a contrary viewpoint, 'I just don't think Woody is a good example of a Jew striving to find acceptance in a WASP world. His two marriages were to Jewish women; he is in a milieu where a high percentage of associates are or have been Jewish.
WHAT THE PAPERS SAID
Penelope Gilliatt wrote that Woody 'technically pushes far ahead of anything he has done in the cinema before, playing with ideas in film which he has been experimenting in prose.'
John Simon the critic for the National Review was less enthused with Annie Hall, which revealed 'everything we never wanted to know about Woody's sex life and were afraid he'd tell us anyway.'
Many reviewers were equally frosty about Woody's sexual frankness, but Joan Goodman put her finger on what charmed reviewers and audiences alike; 'For all its apparent frankness there's something reassuringly old-fashioned about Annie Hall. Romance lives, even if these days you have to punctuate it with visits to the shrink.'
CRITICAL OPINION
Annie Hall marked the stage where Woody would start becoming a little pretentious, and critics started wishing someone would whip Marshall McLuhan out on him. This pretentious attitude was aided by US critics, such as Vincent Canby who championed Woody in the columns of the Times. After viewing Annie Hall he declared that Woody was 'America's Ingmar Bergman', but not all the critics were convinced. A TV critic, Neil Rosen, thought, 'Woody Allen could make a movie called The Barking Dog and Vincent Canby would compliment him on the brilliance of the barking.
In his defence, Canby explained, '...what I meant was that his place in American cinema is like Bergman's in Sweden. As a personal filmmaker he towers over everybody else. Nobody has ever come close to him.'
The 'intellectual' ambitions of Woody have made critics wary of accepting him completely, and this explains why Nigel Floyd rather too easily dismisses Annie Hall as '...little more than a series of shrewd but disjointed anecdotes dealing with Allen's usual self-obsessive hang- ups...If you can forgive the fact that it's a raging ragbag of half-digested intellectual ideas dressed-up with trendy intellectual references, you should have a good laugh.'
On reflection Annie Hall's commercial and artistic success, was a turning point for Woody's career. It showed he was more than a stand- up comedian messing with movies, and he was able to graduate to making 'serious' and more personal movies.
Web Reference
Read Tim Dirks' extensive review of Annie Hall on his The Greatest Films website.

http://www.braindumps.com/642-747.htm
http://www.actualtests.com/exam-1z0-521.htm
http://www.pass4sure.org/SAS-Institute/A00-211.html
http://www.test-king.com/cert-CCNA-Data-Center.htm
https://www.isaca.org/