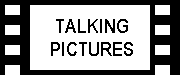 To all my regular readers who are used to columns filled with sarcastic comments made at the expense of Richard Gere, self-deprecating comments about my golfing abilities, and other bits of astringent humour be warned; this column is a bit more serious than the one I had originally set out to write. I had sincerely intended to write a hilarious piece about AOL, my inability to type, and how David Marciano is so charming that he can cause any girl to become flustered, regardless of his method of communication. This is what came splurting out. Next time out, I promise to return to the my typical brand of kazoos and whistles writing to which you have all become accustomed. As a side note: whenever anyone asks me why out of all the people I have interviewed, David has been, and always will be my favourite I tell them 3 reasons:1) He's an incredible actor. 2) He's a kind and giving person. 3) His performances made my best friend happy when all she wanted to do was cry. For that, I will promote his stuff like crazy until the day that he retires.
I hate hospitals. I can't stress that enough. While the majority of you out there would consider bleeding out the eyes to be a medical situation worthy of an emergency room visit, I would merely follow a strict regimen of telling everyone within ear shot that I was fine, than proceeding briskly to my room to whine quietly to myself. But for my family and friends I will step through the doors of a hospital. For them I will awkwardly visit. For one girl in particular, I will stay for hours.
I remember the day I met my honorary big sister, Siobhan. My family, about to embark on a Southwestern USA horseback riding vacation was taking the shrewd precaution of attempting to figure out how to ride a horse before departing. After my very first lesson, I walked into my teacherís house to find my new friend on the couch riveted to David Marciano in The Last Don. As I am a fellow fan I sat down to introduce myself. I opened my mouth to speak, and her hand came up to silence me. "Shhhhh!!!," she said, "No one talks while David is speaking." I sat down beside her and watched the rest of the series in silence. Thus was born the two person admiration society for the actor. Over the next few months I grew to know Siobhan as the sister I had always wanted. She is an incredible artist. She's filled with this all encompassing urge to create, and could forge a heartbreaking piece of art out of dog hair and Popsicle sticks without breaking a sweat. Most amazing of all, she didn't consider her abilities to be anything special.
She was never a terribly conversational girl, but, sitting in front of David's shows, (which she always taped come rain, sleet, snow, power failure, break-in, etc) we'd have the most incredible talks, about everything and nothing. I have a beautifully sharp recollection of one day in particular. We had gone on the hunt for some of David's work at the local video store. In our small town of people who, when asked "Have you seen Harrison Ford's latest movie?" reply "Who?" it's a challenge to find anything one step away from mainstream. We dug up tapes of Due South, Civil Wars, and of course The Last Don, hooked up an extension cord, pulled the TV and VCR out on to the lawn, thwaped the sleeping bags on the grass and absorbed. We made s'mores, argued over which of David's scenes in which shows were the loveliest to watch (HINT: the correct answer is All of Them) and ventured off into a section of dialogue of the sort better left to the imagination of any readers with fanciful minds. I had no idea she was sick. Hodgkin's Disease had started to slowly take her six months before that night. It was about to become much faster. She got paler, and was cold all the time. But every weekend tradition, taste, and friendship demanded that I sit and watch the David Marciano show of choice with my honorary sister.
The day I got my first interview with David, Siobhan went into the hospital. The nurses told me that she had been on pins and needles all day long waiting to hear what her paladin was like. I struggled my way through the doors of the clinic, and told her all about him. How kind he had been, and how funny. How he only said nice things about his co-stars, and how he laughed at all my jokes. I brought my 67th draft of the interview to the hospital so Siobhan could edit it. (For the record, Siobhan's edited copy had less spelling mistakes in it than that of my editor). I got a page from Siobhan's Mom just after I chatted with David again, this time about The Last Don. I called the hospital to find that it was time to go say goodbye. Hodgkin's would win this battle it seemed. When I went in to see her she was watching The Last Don. I can still remember every word of the talks we had the thousand times we had seen it together already; about art, about philosophy, and now, it seemed she wasn't there. The doctors told us she was going, but we knew that anyway. Almost all she said anymore was "Thank you," when someone brought her ice cream which was almost all she wanted. She wouldn't even get out of bed. I remember when she chased a bat out of the house and down the driveway because I was frightened of it. So I go in for my goodbye, because I have to go and pick up my daughter, and Siobhan's Mom and I agree that I probably won't see her again. I sit next to her on the hospital cot, hoping that she can't see that I'm crying. I told her that I would always think of her as my sister. She said she'd always think of me like that too, and would I bring her some ice cream? So, I went out into the waiting room where Siobhan's Mom is waiting for the outcome, and I say "She wants some ice cream." I'm giggling/crying about this. Siobhan's Mom thinks that maybe I should go back in and take a stab at something more meaningful. I don't. Going home, I'm glad that I didn't. She and I have been talking since that moment on her couch when she told me to be quiet. A zillion words. All of them goodbyes now. I don't need her to give me anymore, like souvenirs. I think: Let me not define her death on my terms. Let her have her ice cream. Now, I'm home. My daughter's asleep, and I'm watching The Last Don without my friend for the first time. I can hardly see the screen.
---
Also See:
David Marciano talks about Due South and other things
---