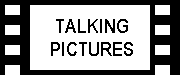 Festival time came and went in 2003 as usual, if a week or two earlier than previously, with around 200 films on offer of which even the most obsessive anorak could not possibly have seen more than 60, and from which I selected six representing a variety of genres. None of these six has a distributor, so opportunities for re-viewing them will be limited or non-existent. I had no wish, for example, to see Jane Campion's In the Cut, which would have been utterly pointless as it went on release the very same week. (In any event, reviews suggested it was little more than a slightly upmarket Basic Instinct.) My thoughts on the chosen six are as follows.
Day of the Wacko (Marek Koterski, Poland). A typically quirky East European comedy, about a dog-hating middle-aged man who conducts his daily activities by a complex series of rituals (a precise number of sheets of toilet paper, four clockwise and three anti-clockwise stirs of his coffee-spoon, he must stop reading when the clock clicks round to a specific time, etc.). Meanwhile he dreams of meeting again a beautiful girl he loved 30 years ago. Amusing and enjoyable, with most of the talking being his voice-over, but why has Poland not been represented at any recent LFF by Andrzej Wajda's or Krzysztof Zanussi's films?
Facing Window (Ferzan Ozpetek, Italy). An impressive and moving drama from a Turkish director about a bored young mother, living in Rome with a husband who cannot hold down a job, who finds meaning in her life both from the young man who lives across from her apartment and from an amnesiac old man who imposes himself on her family. We soon guess that the old man is linked with the horrific WW2 scene which opens the film. A hugely sympathetic performance by Giovanna Mezzogiorno in the central role is the highlight of a film which certainly deserves a release.
Fail-Safe (Sidney Lumet, USA). This newly-restored 1964 cold-war thriller about a nuclear war which starts by accident was eclipsed at the time by Dr. Strangelove. I saw Kubrick's masterpiece on its original release and regarded it simply as a very funny black comedy. Fail-Safe, however, is genuinely tense, and in that sense is more effective as a political statement. There is certainly no comedy in it, though the audience did laugh right at the end, when a statement appeared from the U.S. Defense Department that the events portrayed could not possibly happen! A fine, and very sweaty, performance by Henry Fonda as the US President trying to restrict casualties to a few million.
Free Radicals (Barbara Albert, Austria). A film built around the notion that a tiny event can have massive and unpredictable effects. A butterfly flaps its wings, a plane crashes, and we follow the effects on the sole survivor and her friends and family. Described by some as Altmanesque, Free Radicals becomes a kind of soap opera with a variety of disparate characters all looking for love. Disappointing in that it does not in the end seem to be saying very much. Kieslowski's films, for example, deal with the theme of chance and destiny far more satisfyingly.
Jesus, You Know (Ulrich Seidl, Austria). With documentaries attracting large cinema audiences (Bowling for Columbine, Etre et Avoir, Spellbound), here is one which can stand with the best of them; for me it was the find of the Festival. Six people, in several different churches in Austria, talk to Jesus about the problems in their lives, usually family or relationship crises. We see them on more than one occasion, so that we progressively discover more about them. For example, the first woman prays for her husband who watches what she considers inappropriate TV programmes; it comes as a jolt to discover later that he is a Muslim from Pakistan. These prayer sessions are interspersed with songs from church choirs, and with brief shots of the six characters in their home or leisure surroundings. Apart from the moving prayers and testimonies, the format of this documentary is like no other I have seen. It is very far from "fly-on-the-wall" like Etre et Avoir, nor is it the conventional "filmed interview" because the participants are talking to Jesus and not to the camera. Yet they are talking for the camera, because they are doing what they presumably would never otherwise do (speaking out loud their private thoughts and fears in a public place). The viewer can only admire the intensity of their faith and sympathise with their predicaments, especially the woman who seems convinced she is near to death and prays that it may be like her uncle's. Jesus, You Know certainly deserves a distributor, or perhaps a TV screening as it is probably suitable for the small-screen format.
Salt (Bradley Rust Gray, Iceland). This was in the 'Experimenta' section of the Festival, and is a delightful fairytale-like story of a boy and girl who decide to follow the girl's sister from their remote fishing village to Reykjavik; their car breaks down and they cannot reach their destination. Deliberately shot like a home video, in DV later blown up to 35mm, there are plenty of shots of that amazing Icelandic landscape along with some superb underwater sequences which prove highly relevant to the film's dénouement. The non-actors give deeply affecting performances, notably Brynja Thóra Gudnadóttir as the girl Hildur. The American director was on hand after the screening to answer questions, from which I gained the impression that his methods were highly instinctive, with script changes along the way and with largely improvised dialogue from his mostly very young cast.
Also see:
Beautiful Man Wins TCM Classic Shorts Competition at 2003 London Film festival