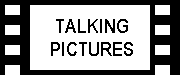 It must be tiresome to be a professional film reviewer. You have to sit through all the previews your employer sends you to, most of which you find unspeakably boring, and every few weeks you are expected to employ phrases like "undoubtedly the film of the year" or "this has to be some kind of masterpiece". As often as not the films so lauded are likely to be quite forgotten in a year or so. It can be embarrassing to see grizzled veteran critics raving over films made for the juvenile market.
The same applies to film festivals. In the case of the London one, you are expected to have seen up to 200 films and to come up with a "10 best" list. But think what you could have done with the 400-odd hours you had to devote to watching the others! Actually, most of the LFF films can be expected to have some merit; it's just that different films appeal to different people, and nobody can seriously be expected to enjoy more than a minority of them.
So when the LFF comes around I simply pick out about half-a-dozen films, based partly on the recommendations of reliable critics, partly on what particularly interests me, partly on what is due to be screened at convenient times, and partly on what is not due for early release.
Anyway, to the 2005 Festival. I missed the three most instantly appealing offerings by master directors: the revival of Bresson's Les Anges du Peche (screening too late in the day), the revival of Antonioni's The Passenger (fully sold out weeks beforehand) and Hou Hsiao-Hsien's Three Times (which has a distributor, and which I shall certainly see when it is released). The following are what I ended up seeing:
Black Sun (Gary Tarr, UK). A documentary about a French artist, Hugues de Montalembert, blinded after a brutal mugging in New York in 1978. De Montalembert himself recounts his inspiring story, how he came to terms with his condition, experienced the well-meaning but misguided reactions of others, and began to travel the world alone. Meanwhile the film's visual images attempt to recreate his feelings and experiences, including the countries he has visited. The artist's account was fascinating; I found the visual imagery at times a little distracting.
Bubble (Steven Soderbergh, USA). Soderbergh's films have never drawn me in the past, but Bubble was a revelation. The first of six films to be made by his production company using high-definition video and shot entirely on location, it is ostensibly an unconventional murder mystery using a cast of non-professionals who helped write their own dialogue (shades of Eric Rohmer). Set among the "poor white" community along the West Virginia-Ohio border, the characters' limited circumstances and inarticulate conversation carries a powerful ring of authenticity. The three main characters, one of whom becomes the murder victim, work in a doll factory, apparently one of only three remaining in the USA. Highly recommended if it gets a UK release; it is certainly getting a USA one, with simultaneous DVD release.
The Death of Mister Lazarescu (Cristi Puiu, Romania). This extraordinary film, a Cannes prize winner, is like a real-time documentary about a 62-year-old Bucharest man who falls ill one Saturday night, phones for an ambulance, and spends the next few hours being carted from hospital to hospital encountering a succession of arrogant and sarcastic doctors. A major traffic accident merely adds to the stress of the medical staff. Without being obviously exaggerated, the film resonates with a black humour and will perhaps be recognised by NHS medical staff, and patients, as being a fair representation of what they have to go through.
Little Jerusalem (Karin Albou, France). Set in a Jewish suburb of Paris, this impressive debut feature concerns 18-year-old Laura, played by the delightful Fanny Valette. Fascinated by philosophy, which she tries to fuse with her religion, she insists on a daily walk at a fixed time, like her hero Immanuel Kant. Believing that she can live without romantic love, problems naturally arise when she falls passionately for a Muslim. Personally I would have welcomed a deeper exploration of the religion/philosophy question (the male philosophy lecturer offers an absurdly simplistic view of Kant) but only the Polish director Zanussi has attempted this difficult feat in the cinema.
Ten Skies (James Benning, USA). From the Festival's Experimenta section, this companion piece to 13 Lakes (which I did not see) consists of 10-minute takes, with fixed camera, of ten different skies with their various and slow-changing cloud formations. A film which teaches you (if you so wish) to look and to listen, as you should do with any worthwhile film. From the various sounds (low-flying aircraft, some kind of nearby factory, rifles being shot, dogs barking, and lots of birdsong) a story-line can be built up in the viewer's mind, but what came out of the question-and-answer session afterwards was that the ten soundtracks were from earlier films of Benning's, so that the film is not quite the example of "documentary realism" as it at first appeared to be. Nevertheless, a fascinating experiment, and hardly anyone walked out.
This Charming Girl (Lee Yoon-Ki, South Korea). A first feature with Hitchcockian undertones (specifically Marnie), and only the second Korean film I have seen. An ordinary-seeming girl gradually reveals some eccentric characteristics in her daily routine, such as excessive washing, obsession with eyelashes and a stray cat, and a slightly distant attitude towards her work colleagues. After a succession of brief flashbacks in her mind, the source of her strangeness is finally revealed. Not, for me, a particularly memorable film however.
Of these films, The Death of Mister Lazarescu has a UK distributor so can expect a release sometime, and I would guess that Bubble will reach a wider audience also. Both are recommended.