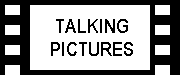 My annual dip into the London Film Festival took its usual form: not being a professional reviewer and thus spared from the chore of having to spend many hours every day sitting through mostly tedious stuff, I have the luxury of selecting around half-a-dozen films of particular personal appeal, regardless of the presence of "stars", of commercial potential, or even of critical acclaim. Nor can I see any point whatsoever in seeing a film which will go on general release within days (such as Eastern Promises). This year's Festival offerings seemed a pretty good variety, despite the omissions of the latest films of Eric Rohmer and Bela Tarr, two of my favourite living directors. My choices were as follows.
Alexandra
(Alexander Sokurov) Following two of his previous film titles, Sokurov might well have called this "Grandmother and Grandson". Basically a meditation on war, Alexandra is an elderly widow who travels to Chechnya to see her grandson, serving in the Russian army. With no evidence of any fighting going on, she inspects the military equipment, visits the local market, and befriends a Chechen woman of similar age. Sokurov is clearly asking what on earth the fighting is all about, when the two peoples are so similar. He also examines the grandmother/grandson relationship in a moving way. The film is almost drained of colour, producing a dreamlike aura, while Alexandra is triumphantly played by Galina Vishnevskaya, a famous Russian opera singer now in her 80s.
The Banishment
(Andrei Zviaguintsev) Reviewing Zviaguintsev's first feature, The Return, I wrote "If this director can produce more of the same quality, those of us who admire Russian cinema are in for some real treats." Well, his new one is of even greater quality; he has proved himself a supreme master of the intense family drama, and of creating a mood of foreboding and dread, not to mention a fine director of children. The Banishment, based loosely on an American short story, has a more complex plot, and more key characters, than The Return, while the same actor, Konstantin Lavronenko, again has the lead role of the father. It is a film where nothing is quite what it seems, and which you want to see again with a different perspective on the characters. It is one of the few films where I have emerged from the cinema almost shaking, and it has to be, for me, the film of the century so far.
The Lighthouse
(Maria Saakyan) An Armenian film whose strangeness failed to win me over. Basically an impressionistic meditation on war, memory, and loss. The context seemed to be an ongoing war between Armenia and Azerbaijan, and a girl called Lena returns home to try and persuade her grandparents to leave. The title refers to a model lighthouse at the old couple's home, but I could not see any other significance in it.
In Memory of Me
(Saverio Costanza) Described in the Festival programme as a "spiritual thriller" (though any thrills are purely internal), this most unusual film might have been scripted by Dostoevsky, who was certainly the inspiration for a key scene. It is set in a monastery on an island just off Venice, of which we see hardly anything, though a snatch of Mahler's 5th Symphony, a la Death in Venice, is heard at one point. It tells of a novice monk, Andrea, seeking to find himself through inner discipline. The novices are encouraged to watch and listen out for the faults of others, and to report them. One suddenly disappears overnight, another asks Andrea why he follows him around. There is very little dialogue, but a lot of watching and wondering. It may look like Philip Groning's great documentary Into Great Silence, but in other respects it is rather different.
The Last Lear
(Rituparno Ghosh) This Indian film is based on a play by Utpal Dutt. A cross between Sunset Boulevard and Limelight, it tells of a 75-year-old Shakespearean actor known as Harry, a "grumpy old man" type with barred windows who forever complains about young men relieving themselves against his wall, who is coaxed out of retirement by a young director to star in his new film. His story is recounted in flashback by the lead actress, visiting his home where he lies seriously ill. The film is handsomely shot, satisfyingly multilayered, and peppered with classically-delivered speeches from King Lear and other sources from the Bard. A mostly enjoyable drama, which flags a bit when Harry (Amitabh Bachchan, regarded as the greatest "Bollywood superstar") is not on screen, and whose ending becomes increasingly predictable.
One Hundred Nails
(Ermanno Olmi) The Italian veteran's proclaimed final film begins with a bizarre crime, though we soon find out whodunnit, and it develops into a modern re-telling of the Gospel story. A professor, a lookalike for the conventional representations of Jesus, having demonstrated his disdain for books as a source of truth, leaves his scholarly abode for a ruined house on the banks of the Po, and gathers around him a collection of the kind of peasants so beloved by Olmi in The Tree of Wooden Clogs. He has a Passion of sorts, and finally disappears from his followers' lives, but not through death (let alone resurrection). I see the film as an attack on fundamentalism, the view that something written down can represent literal truth. The film is thought-provoking, amusing at times, beautifully shot, and well worth catching if you get the chance.
Secret Sunshine
(Lee Chang-Dong) This powerful drama features a terrific central performance from Jeon Do-Yeon, who won Best Actress award at Cannes. On screen for almost the entire 142 minutes, and pursued for nearly all that time by an ungainly man who fancies her, she plays a widow who takes her young son from Seoul to live in her husband's nondescript home town, and sets up a music school there. A further tragedy drives her into the arms of the local Evangelical church, which are ubiquitous in South Korea. Her behaviour becomes increasingly erratic as her breakdown takes effect. Overall, a fairly gripping portrayal of grief and its effects, mercifully free of either sentimentality or melodrama.