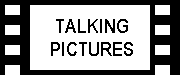 It has been my practice for some years of LFF-going to select half-a-dozen or so films which, based largely on what the official programme says about them, particularly appeal to me, usually the smaller ones which are unlikely to go on general release within a few weeks. Invariably the programme omits one or two which I had read about and had been hoping for; it would be interesting to know why the latest James Bond movie (which everyone will be able to see to their heart's content) was given preference over, for example, Bela Tarr's The Man From London, Jose Luis Guerin's In The City Of Sylvia, and Manoel de Oliveira's Belle Toujours, none of which was included. The films I finally chose to see were five from continental Europe, one from Japan, and one from Chile.



Birdsong



(director Albert Serra). Two years ago I was enchanted by this Catalan director's Honour of the Knights, a quirky modern take on the Don Quixote story. Birdsong, shot in black-and-white, is a quirky modern take on the story of the Magi, or three kings, journeying to see the baby Jesus. Too quirky for some in the audience, who left well before the end, as it is a bit like Waiting for Godot with most of the dialogue cut out. For me this is no criticism, but I can understand how some viewers can be underwhelmed by (for example) a 10-minute take of three figures, in the far distance, struggling across difficult terrain, at times completely disappearing into a valley. The eventual meeting with Mary, Joseph, and the baby is enlivened by the film's only music, played by Pablo Casals, and this is followed by the long trudge back. The film is very contemplative and beautiful, shot largely in Iceland, but I don't think I would see it again.



The Class



(Laurent Cantet). Why are the French so good at making films set in schools? From Vigo's early classic Zero de Conduite, through Malle's Au Revoir Les Enfants, to Filibert's great documentary Etre et Avoir, they never seem to fail. Now comes this terrific Cannes prize-winner, based on a book about his experiences by teacher Francois Begaudeau who just happens to play himself in a documentary-style feature about a multicultural high school on the outskirts of Paris. Most of the film takes place in the classroom, the rest being mainly staff meetings. For the first hour or so we get to know the teacher and the kids, but the real drama follows, with a major classroom incident leading to a pretty gripping and emotional finale. This should be seen by anyone interested in education, and anyone else for that matter.



The Karamazovs



(Petr Zelenka). A Prague theatre company rehearses a dramatisation of The Brothers Karamazov in a Polish steel factory. This is not just actors playing actors; the performers are an actual theatre company rehearsing one of their actual productions, which is pretty intense and dramatic, so in effect it is their daily work that is being filmed. But there is more, because the rehearsal is being watched with great interest by one of the workers, who is profoundly affected by it. The film is utterly involving, though it does help if you know something of Dostoevsky's great novel.



Nucingen Haus



(Raoul Ruiz). The Chilean director has made over 100 films, yet the only one at all well-known in the UK is Time Regained (1999). This immaculately-presented new film is a rather weird haunted-house mystery, reminiscent of Henry James' ghost story The Turn of the Screw, which is probably why the central character is a writer called William James. Dining out with his wife, he overhears a conversation about himself, which becomes a flashback in which he arrives at an elegant old house (the eponymous Nucingen Haus) with some truly bizarre inhabitants. Drifting from dream to nightmare to (possibly) reality, we are never quite sure what is happening, and then James and his wife really do arrive at the house . . .



The Silence of Lorna



(Jean-Pierre and Luc Dardenne). Following their great films Rosetta, The Son, and L'Enfant (The Child), the Dardenne brothers have another triumph again set among marginalized characters in a grim industrial town. The central character is Lorna (Arta Dobroshi, on screen in every scene, and terrific), an Albanian seeking Belgian citizenship through a marriage of convenience to a junkie (Jeremie Renier, who sold his own baby in L'Enfant) so that, following a divorce of convenience, she can extend citizenship to a Russian in a similar way. When the proposed divorce turns out to be a widowhood, complications naturally ensue. Like their earlier films, this one ends just when you are anxious to know what happens next, so it's not for those who like everything neatly tied up.



Still Walking



(Hirokazu Kore-eda). I booked this because I thoroughly enjoyed the Japanese director's delightful 1998 fantasy After Life. This new one is like one of Ozu's great films from the 1950s, not so much in Ozu's very formal style as in subject matter, the story of an ordinary middle-class family, doing ordinary things, yet which gradually draws the viewer in. In Still Walking an elderly couple's 40-year-old son Ryo, with his wife whom he married when a young widow, is visiting his parents, along with other family members, and gradually we discover the reasons for the tensions between the characters; in particular the old father virtually ignores Ryo. In a moving coda we discover what happens in the years following. If you love Ozu's Tokyo Story, as so many do, you'll probably love this too.



Uprise



(Sandro Aguilar). This partly hospital-set, largely dialogue-free, and almost wholly incomprehensible film from Portugal seems designed purely to show off some fancy photography. Sorry, Sandro.