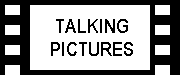 We live in an age when practically any film we can think of can be summoned up in the comfort of our own home. I was delighted to discover for example that Robert Bresson's Une Femme Douce, which for copyright reasons has not been publicly screened for decades and cannot be obtained on DVD anywhere, can be watched on YouTube, albeit in bite-sized chunks.

So what is the point of cinemas? Of course, you will rightly reply, the experience of watching something on a large screen with 100 strangers is a very different experience from a TV screen at home. And then there is the film festival, which for us Londoners means an annual October feast of some 200 new offerings from around the world, from which I usually select around half-a-dozen with which to indulge myself, based not on "hype" but on subjects which interest or appeal to me, and directors I admire. In 2009 I selected five, only one of which (Bright Star) is, at the time of writing, scheduled for UK release. As regards two other enticing offerings, John Hillcoat's The Road (based on Cormac McCarthy's great novel) and Michael Haneke's The White Ribbon, I am prepared to wait a few weeks for their theatrical release.



Bright Star

(director: Jane Campion). Campion (The Piano, Portrait of a Lady) again shows her mastery of 19th century-set films with this stunningly-shot and beautifully understated portrayal of the tragic love affair between John Keats and Fanny Brawne, which ended in the poet's early death. Moving performances by Abbie Cornish and Ben Whishaw combine with Greig Fraser's photography to make this a greatly superior example of the "costume drama" (to use the popular phrase) which deserves to be widely seen. Andrew Motion, a Keats biographer, was a key adviser on the film. The film's title is the opening words of a poem dedicated to Fanny, unpublished in Keats' lifetime, which she movingly recites at the end. Stay for the credits; you will hear some more of his poetry.



Lourdes

(Jessica Hausner). Starting off like a documentary about the famous shrine in the French Pyrenees, this film gradually morphs into the story of the young woman Christine (Sylvie Testud), suffering from MS, a member of an organised tour. I would guess that all the speaking parts are played by actors, though the location is certainly authentic and there are crowds of what are presumably real pilgrims. The Austrian director, who is reportedly a lapsed Catholic, leaves up in the air the question of whether or not "miracles" occur there, but raises questions like: Why does God apparently heal some people and not others? The main image left on the mind, however, is that of the wide-eyed Christine, with her trademark bright red hat, looking around her with interest and yet with doubt, expressing more than once the view that she prefers Rome because it is more "cultural". The film is likely to be of most interest to those who have been to Lourdes, but only of marginal interest to those who have not.



The Portuguese Nun

(Eugene Green). Green is regarded as an avant-garde director, and this film was placed in the "experimenta" section of the festival. However, it is perfectly accessible, though its very slow and deliberative dialogue, often spoken straight to camera, may seem strange to some. I found it an utterly absorbing film, which slowly draws you in to the story of the actress Julie playing a nun in a film set in Lisbon (called, surprise surprise, The Portuguese Nun), the director of which is played by Green himself, who has a number of one-to-one encounters with the likes of a young boy, his aunt, an aristocrat, the leading man in her film, and a real nun who spends her nights in prayer in a chapel. This last encounter is extremely intense, not least because of the way it is shot, and it proves life-changing for Julie. A repeated theme of the film, and even of the gorgeous fado songs, is of wanting to be someone else, or somewhere else. And, if all else fails for you, there are extended stunning shots of the Lisbon cityscape.



Sweet Rush

(Andrzej Wajda). A highly self-referential film from the greatest living Polish director, starring the greatest living Polish actress Krystyna Janda (Man of Marble, Interrogation). It is based on a short story about a woman who starts to become romantically involved with a much younger man, who unexpectedly drowns. Janda's husband, the cinematographer Edward Klosinki, died after she had accepted the part, and this is interwoven into the film, in the form of several moving long-take monologues delivered by Janda, as herself, about her grief, along with two or three brief shots of the film being made, including Wajda and Janda in conversation. In one shot we see a copy of the book Ashes and Diamonds, the basis of Wajda's 1958 masterpiece. If this sounds complicated, it isn't really, and at 82 Wajda is still making great films.



What Do You Know About Me

(Valerio Jalongo). This is a deeply pessimistic documentary about the state of the Italian film industry. The director's belief is that, sometime in the 1970s, the onset of commercial TV, largely inspired by one Silvio Berlosconi (whatever happened to him?), along with the coming of the multiplex and decisions by various politicians, made it virtually impossible for Italian directors and producers to make decent films any more. The most memorable image for me was that of the ageing Fellini (who, unbelievably, was unknown to a group of teenage girls being interviewed) pleading for his films to be allowed on TV without commercial breaks. A film whose message deserves to be much more widely understood, though I found the constantly moving camerawork somewhat distracting.