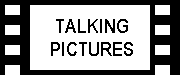 You may have seen pictures of him, you may have heard of him, you will certainly be seeing more of him in the next 12 months. Mem Ferda, a classically trained actor with a diploma from LAMDA and a degree in Business Administration, does not strike you as a cultural icon. But at 6' 2" and 240lbs, there is nothing average about this London born actor of Turkish descent.

Ferda has three films of varying budget and genre coming out in the next year, that will bring him a new level of attention. A veteran of primetime television in this country (Heartbeat, Eastenders, Whistleblowers); his intimidating frame and talent has gained him the part of Kamel Hannah in the upcoming The Devil's Double, directed by Lee Tamahori (Once Were Warriors, Die Another Day) and tells the story of Latif, employed as the body d
ouble to Uday, the son of Saddam Hussein, played with relish by Dominic Cooper (The History Boys). Ferda plays a stooge of Hussein's regime, who is made an example of at a garden party - the scene in question that features a lot of Ferda has garnered a lot of speak on internet message boards and got people whispering when the film has been shown at Berlin and Los Angeles film festivals earlier this year.

The scene can be described as gruesome and gory in detail, and for Ferda it was a lot to take on. He had to add weight to his already huge frame, and the whole scene took three days to shoot. Working with Tamahori, was like a dream 'He directed one of my favourite films of all time [Once Were Warriors] and he did push me, which I felt he needed to and I am grateful he did do. Off set he is a great guy, but as a director he was very hands on.'

The film is scheduled for release in the UK in mid August, and with a heralded action helmer behind the camera, with a solid lead holding the fort - the omens are good for a film that does not intend to make any political statement about Iraq or the Saddam regime. It is an action film with a good alternative storyline as its basis.

Recently wrapped, is Pusher an English translation of Nicholas Winding Refn's Danish cult classic about a Danish drug dealer, this time transported to the streets of London directed by Luis Prieto. Ferda is joined in the cast by Richard Coyle (Coupling) and Agyness Deyn and Bronson Webb. Speaking to Ferda, you could tell how proud he was of this performance. 'I play Hakan (a Turk), who is united with Richard's character, the Pusher of the title, and so we create a partnership. Now playing another Eastern European I was wary of playing a villain or hoodlum again. Luckily, me and the director [Prieto] worked on the character, and made him a bit more humane and humanistic. And make him less of a bad guy, but a good guy in a bad situation.'

Whilst he has a film about to be released, and a film just wrapped, a busy man cannot be kept down - and he is currently filming Ill Manors, the directorial debut by Ben Drew, more widely known as musician Plan B; who also wrote the screenplay and is taking the leading role in what is being called a hip-hop musical - gritty and urban also featuring Natalie Press in the cast.

Whilst filming Ferda had his eyes opened to the darker side of London, 'We filmed on Carpenters Estate in East London, and that was rough. We were filming a scene were I am thrown in the back of a van, and the residents were throwing stuff at us from the floors above, which was a bit scary'. Ferda plays Vladimir, 'Yes, another Eastern European, but I play a nasty people trafficker who brings over Katya (Press' character) who gets pregnant and I am not happy about it, so a lot of the film I am chasing her.'

What drew him to Ben Drew's debut feature? 'Well I am a fan of his work and he has the midas touch at the moment, and he is a good director and actor, so I am expecting good things with the end result'.

Freda speaks eloquently and passionately about all three projects, but I then ask about what is beyond this current purple patch. He mentions how he would like to spread his wings, 'I am really trying to get into the production side, I am involved with this little film Emulsion, which was filmed in Bournemouth and is just about finished. And then there is Gridiron UK, which I am associate producer on, and it is about American football but with a comedy genre in it, it is an original idea and we start shooting in Crewe (near Manchester) in August.'

I sense talking to him, that there is another underlying reason for this need to produce, 'I want to be a role model, but with the negative representations of Turkish people on film and television, there are not any writers creating these characters. So with my script work with White Lantern films (who produced Emulsion) hopefully we can find the scripts out there to portray a more positive viewpoint.

Is there anything in particular you would like to do? 'I'd love to do a comedy', leaving me surprised but not shocked by such a statement from a confident man who has made the best of what he has got, and run with it.

Lastly I ask Ferda about a recurrent quote that came up in my research; 'Cultivate your inner life through perserverance and sacrifice' my question was, if this was a personal philosophy? 'It has two meanings - on an acting level, it acts as a constant reminder to analyse deeply, introspectively, your emotions and senses - what makes you who you are and to persevere in understanding yourself always, then when playing a role sacrificing all this to the character you are about to play. As an ethos, it helps me and hopefully others to remember who you are, where you are from, how you battled to be where you are. The spirits that motivated your behaviour and guided your beliefs and the sacrifices made. So not to squander your opportunites'.

Sterling words of many depths from a man of many layers, Mem Ferda fits all the descriptions of being larger than life and never judge a book by its cover. Over the next few months he is giving you the opportunity to catch him in action, do not miss out.

The Devil's Double is released on 12th August. Pusher is scheduled for release later in the year and Ill Manors is scheduled for release in 2012.