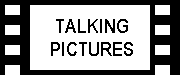 A well-attended symposium entitled "The Art of Andrei Tarkovsky" was held at London's Tate Modern gallery on 9 May 2008. Of interest to Tarkovsky buffs and modern art enthusiasts alike, this successful event, arranged in collaboration with the London Consortium, featured seven speakers, introduced by three moderators, in four separate sessions. The broad theme was the influence of the films of the great Russian director, who died in 1986, both on subsequent cinema and on modern art in its various forms.
Three of the speakers were of particular interest to me. The first was Evgeny Tsymbal, assistant director on Stalker, presenting a paper called On Sculpting the Stalker. His reminiscences of the film (which for me is Tarkovsky's greatest, by a very short head) included the revelation that it was actually shot three times, not just twice as I had thought, and that one acclaimed scene involved the lead actor, Alexander Kaidanovsky, having to spend several hours lying on his back in a shallow lake, which, according to the speaker, undoubtedly hastened his early death. The question of whether Tarkovsky was some kind of predictor of the future came up; as well as his supposed foreseeing of Chernobyl (in Stalker) and of the assassination of the Swedish premier Olaf Palme (a nightmare scene in The Sacrifice was shot at the very spot of his death, but 6 months before it happened), it was suggested that Tarkovsky predicted the date of his own death in a calendar seen in the lake scene of Stalker.
The second speaker of particular interest to me was James Quandt, a Canadian who has written widely on several of my favourite directors, including Robert Bresson. The self-explanatory title of his paper was Tarkovsky and his Influence in Contemporary Cinema. He discussed, for example, the films of Hungarian director Bela Tarr, whose long takes put Tarkovsky's well into the shade, and claimed that the influence is perfectly obvious despite Tarr having denied it. Quandt also dismissed Andrei Zviaguintsev's new film The Banishment as being some kind of poor parody of Tarkovsky which added nothing original. As a huge admirer of this film at the 2007 London Film Festival, I look forward to its UK release (expected in August) to see if my opinion needs revising.
Then there was a paper given by the novelist Toby Litt, entitled Tarkovsky's Boredom (reproduced in the New Statesman of 12 May). The casual moviegoer, looking for "entertainment", would find Tarkovsky's 5-minute-plus takes interminably "boring", but where nothing appears to be happening, in fact the opposite is the case. Enthusiasts of his films will concur that they are infinitely more than merely beautiful almost-still photographs.
The other four papers were to some extent a little above my head, though the student from Camberwell College of Art who sat next to me was more in her element. Most interesting was Ajapeegel, by Jeremy Millar, a short video work shot at the Tallinn location of Stalker.
The symposium came to life with two interjections from the floor by a lady I recognised as Leila Alexander, interpreter on the production of The Sacrifice. She dismissed what she regarded as all the academic analysis of the films, insisting instead that they are, in effect, spiritual testaments; this drew some support from the audience.
This symposium was an absorbing event which proved to me that, nearly 22 years after his death, Andrei Tarkovsky has undoubtedly achieved legendary status. His films will never be a majority taste but, despite occasionally being a little "dated", they certainly speak to us in the 21st century.
---
Also see:
ANDREI TARKOVSKY: PROFOUND, MAJESTIC AND MYSTERIOUS: AN INTERVIEW WITH LAYLA ALEXANDER GARRETT