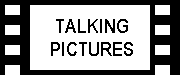 In 1999 the people of Poland flocked in their millions to see two new films based on much-loved historical literary epics. Andrejz Wajda's Pan Tadeusz, and Jerzy Hoffman's With Fire and Sword (Ogniem i Mieczem), were huge commercial and critical successes, but neither has been released in the U.K. nor even shown at the London Film Festival. Thanks to a Polish friend I have recently managed to see these films on DVD.
To appreciate Polish cinema it helps to know a little of that country's history. In particular, Poland did not exist as a geographical entity between 1795 and 1918, and again during WW2, due to occupation by various combinations of foreign powers. However, during these periods the country existed in people's minds in a kind of "spiritual" sense, leading to an intense Romanticism which sometimes led to desperate and even reckless uprisings, such as the Warsaw Rising of 1944 (the subject of Wajda's 1957 film Kanal).
Most of Poland's great literary and cinematic works are political in nature, whether overtly or implicitly, though this becomes less true after 1989. Wajda's best-known films, the "war trilogy" of the 1950s (including his masterpiece Ashes and Diamonds) and the later Man of Marble and Man of Iron, are obviously such, while his historical drama Danton, set during the French Revolution, clearly compares pre-1789 France to Communist Poland. Even a film like Polanski's Knife in the Water (1962), a psychological drama about three people on a boat, can be seen as an attack on the urge to conformity under communism, while Kawalerowicz' Mother Joan of the Angels (1960), about 17th century demonic possession, can also be seen as a contemporary political protest, rather like Arthur Miller's classic play The Crucible.
The books which inspired the two cinematic epics of 1999 are exultant calls to national pride at times of turbulance. Pan Tadeusz was an epic poem by Adam Mickiewicz (1798-1855) set in 1811, the same era as Tolstoy's War and Peace but seen from an opposite, i.e. anti-Russian and pro-French, standpoint, when Poland was occupied by Lithuania. With Fire and Sword is the first novel of a trilogy (though the last to be filmed) by Henryk Sienkiewicz (1846-1916), the Nobel Prize-winning author of Quo Vadis. It is set in the late 1640s when Poland was being seriously threatened by a Ukrainian Cossack uprising.
Both these historical fictions tell of romantic passions set against tumultuous events, and to encounter the films totally unaware of these events is a recipe for confusion, which perhaps explains their non-release in the U.K. With a little background, however, one can sit back and thoroughly enjoy these action-packed fast-moving epics, both with sumptuous visuals, battles galore, theatrical acting styles, and, particularly in the case of With Fire and Sword, a magnificent and varied array of moustaches! Both feature in leading roles Daniel Olbrychski, who has been something of a Polish superstar for decades, while those familiar with Kieslowski's films will recognise in Pan Tadeusz Grazyna Szapolowska (No End, Decalogue 6) and in With Fire and Sword Zbigniew Zamachowski (Decalogue 10, Three Colours White).
Wajda's film tells of a long-standing family feud, the main love interest being between the eponymous Pan Tadeusz (which roughly translates as "Master Thaddeus") and a girl whose grandfather was murdered by one of his ancestors. Matters are complicated by the girl's guardian, an older woman who tries to seduce Tadeusz, and of course by the battles being waged for political supremacy. The style, pace, and acting reminded me very much of Rappeneau's 1990 success Cyrano de Bergerac, with its rhyming couplets expertly translated from the French by Anthony Burgess (the subtitles in Pan Tadeusz are in straightforward English, rather than the rhyming couplets of the original). With some contrasting quieter scenes, including some beautiful countryside shots, Wajda's film is a feast for the eyes.
On first impression Hoffman's 3-hour epic is similar, though set in a much earlier age (Shakespeare rather than Jane Austen, one might say). Hoffman made the two earlier parts of the trilogy in 1968 and 1974, the latter (Potop, or Deluge) actually earning a "best foreign film" Oscar nomination. With Fire and Sword has an air of "magical realism", as well as some Kurosawa-like touches (numerous brief slow-motion shots, armies lined up with their brightly-coloured banners, a few gruesomely violent bits, some broad comedy). Its nationalist standpoint apparently did not go down well in Ukraine and Russia, though Hoffman dedicated the film to his late Russian wife. The reason for the 25-year delay since the making of the previous film of the trilogy was, apparently, objections from the then Soviet Union. It looks, and indeed was, hugely expensive (over $5m.) with, we are told, more than 100 actors, 200 horses, 2,000 extras, a 300-strong crew, 118 filming days, computer-generated castles, and a lavish array of 17th century costumes. Provided one can cope with (or overlook) the complications of the story, With Fire and Sword is a film in which to wallow.
Polish cinema has a rich history, and it is a pity that in the U.K. it has not had more exposure, Kieslowski notwithstanding. A major reason for this may be the lack of funding for publicity. A start could be made if these two epics could secure a belated release.