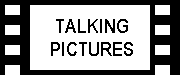 The following appears on the Internet Movie Database in connection with Sergio Leone's A Fistful of Dynamite:
"This is a great movie which is a real Leone/Morricone product: beautiful close-ups, beautiful music, a fabulously vicious cast, a great story, a lot of laughs and a lot more…This is a great film, rough, sweaty, cynical, humorous and a great adventure which will splatter you with tomato-sauce!"
You could be forgiven for thinking that this commentary appears in connection with A Fistful of Dollars or Once Upon a Time in the West. Indeed, the (rather bizarre) reference to tomato sauce tends to evoke the considerably more visceral The Wild Bunch.
The Imdb is the leading source of film-related information on the Web, something of a bible for its subject. That its summaries and user comments are so sloppy speaks volumes about the contemporary state of film writing in this country.
British film journalism is in serious trouble. It is dominated by pro-Hollywood, anti-arthouse white male editors who recruit like-minded writers and have a historical sense going all the way back to Get Carter. Our film writing is driven by Anglo-American distribution agendas and characterised by egocentric posturing. Publications kowtow to the film-as-product. There is precious little analysis, and never enough reading against the grain. There is not nearly enough writing about 'other' cinemas: independent, repertory, shorts, experimental. It is no wonder the reader ends up with sketchy and reductive perspectives on Samira Makhmalbaf, re-releases, and the media violence debate. Kandahar stood the chance of a longer exhibition life and more incisive commentary only as a result of the September 11 fallout. Compared with the number making them, there are not nearly enough women talking about films in print. There are not nearly enough writers from ethnic and other backgrounds. In short, film journalism is an industry dominated by the narrow and unimaginative takes of a select few.
When she identified the male gaze as a principle of classical Hollywood filmmaking, Laura Mulvey also evoked the mastery of the image implicit from the moment his grandson seems to fly that helicopter along virtual streets in the multiplex Dolby commercial. Hollywood aesthetics continue to offer young white males a perspective they afford no other social group. Monday morning regional press screenings have a self-congratulatory 'boys' club' atmosphere, whilst the metropolitan counterpart finds the boys, tanked up on red wine and sandwiches by Pret a Manger, cultivating publicists with recurring motifs in the Coens.
Fuelled by distributors' advertising budgets and run according to the tastes of youngish male editors for the edification of youngish male readers, these publications are, as critic Jonathan Romney observes, the advance guard for promotional campaigns prompted in conference suites 6,000 miles away. Tagging along in the provinces, local newspapers and 'What's On' magazines dutifully toe the line. As distributors push the Tomb Raiders and American Pies, their journalistic handmaidens plastered in the Angelina Jolies and Reese Witherspoons of the moment, there is little the provincial advocate of rogue readings or 'other' cinemas can do to dent the flow.
What do these writers write? Well, the Imdb example is not the only blurb you thought referred to many another film. Distributors make a habit of ringing journalists and asking to use extracts from their copy:
"Cool, clever, insightful, provocative and funny"…
"a brilliant black comedy…one of the best films of the year."
Scream 2? American Beauty? The Apartment? Wrong on all counts. These anonymous legends appeared on the posters for In the Company of Men in 1998. For the Hereford Journal, it was enough that A.I. and Amelie were "acclaimed by the critics and adored by moviegoers." Taking Sight and Sound to task for its lukewarm response to Traffic, the Editor of a little Cambridge website described the film as a work of "genius" and Sight and Sound had missed the boat. On another occasion, an interview with Catherine Breillat was shunted off in favour of one with Tim Roth, whose film, The War Zone, had been and gone. (The same publication duly informed Cambridge Arts Picturehouse, a key advertiser, that it would no longer be running coverage of foreign-language films playing Cambridge). Factual mistakes occur with depressing regularity, even in the broadsheets. In a Guardian blurb in October, gamine star of Zazie dans le Metro Catherine Demengeot became Catherine Demengeon. And Zazie appeared in 1961, whilst actually released in 1960. FilmFour were transparently capitalizing on the popularity of the minx Amelie, but why didn't the writer notice? Elsewhere, acclaimed screenwriter Kevin Williamson became Kevin Williams. Overused words in contemporary film journalism include: "quirky" (American independents, Ma Vie en Rose, Amelie); "masterpiece" (textbook classics, anything, depending on the writer's mood and expertise); "feelgood" (Ma Vie en Rose, anything with Roberto Benigni). Why "helmsman" and not "filmmaker"? And why is arthouse fare always, always "sumptuously photographed"? Is it because British writers have nothing to say about the cultural specificity of these films? Asked by a TV company to provide a list of cult movies, one writer came up with Jaws, Taxi Driver and The French Connection. These are not uncommon assumptions amidst a culture in which a birthday card publisher lists stills from North by Northwest under 'Cult Images'. Since when have these mainstream titles assumed the status of niche midnighters?
"It is widely believed that film criticism is essentially culinary, in the most derogatory sense - that a critic's job is to see a film, digest and then regurgitate it in palatable bite-size (or sound-bite size) form for readers who may or may not choose to see the film themselves"
- writes Jonathan Romney. In keeping with a culture still in nostalgic deference to its literary patrimony, it is enough for writers to briefly synopsize, then lard with rhetorical boilerplate and screening room buzz. Seldom the interactions, either among the aesthetics on screen or between spectator and image. You could be choosing a hatchback.
British film writing needs a shake-up. Many writers broke into film journalism (easier said…), because they love what only movies can do. But what does the cinephile write when faced with this closed circuit of products, opinions and consumers? Many is the time when, confronted with You've Got Mail or Executive Decision at provincial screenings, I have preferred to be at home reminiscing about the first time I saw Meet John Doe or writing a shot-by-shot analysis of Les Visiteurs du Soir. Romney offers jouissance carte blanche: "remain open to unreasonable enthusiasms, to wilful perversity, and let these shape the criticism." There is much to be said for reading against the grain. Despite its calculated 'rom-com' aesthetics and my own feeling for Michelle Pfeiffer vehicles (a hopelessly unreasonable enthusiasm, to cinephile friends), in 1996 I reviewed One Fine Day, dwelling on its celebration of the mobile phone society. Given the deliberate tendency for Hollywood films nowadays to indicate the zeitgeist, this would be thoroughly admissible (if commercially perverse) in metropolitan reviewing circles. But my spiel was replaced by a rehash of the press pack for The Nutty Professor. Were they taking the piss? On another occasion, I wrote about Bringing out the Dead, focussing almost entirely upon one series of fades. Scorsese would've been pleased someone noticed!
There is not enough writing about non-mainstream filmmaking in Britain. The closure in October of London's Lux Cinema, a flagship venue for 'other' practices, is symptomatic of the parlous state of left field cinemas. The Summer, 2001 issue of Film Waves, a magazine devoted to independent filmmaking, featured Bill Viola, Oberhausen Short Film Festival, a piece on Third Cinema, and a piece on the virtues of silence on your soundtrack. Significantly, Film Waves has a number of women staffers and contributors. Given the contemporary dominance of male writers, it is hard to credit that British film journalism was not so long ago dominated by C.A. Lejeune, Dilys Powell and Penelope Houston. Aside from a few perceptive voices in commercial film writing, is academic Film Studies the only sector in which women writers flourish nowadays?
More positively, there is good, independently minded writing on the Web. The Site of Movie Magazines offers a useful roundup of portals by country. Ranging from the academic to the extreme, these venues include the thoughtful and exacting - Scope, Screening the Past - and the cultish and provocative - Hollywood Outsider, Trashvideo. Then there are those that combine exactitude with a feeling for the grindhouse alleyways of 'unofficial' cinemas - Audience, Bright Lights Film Journal, Senses of Cinema.
But mainstream journalism remains the source of most British film commentary. And whilst there is some insightful and efficient writing being done in this area, too many writers like to perform as showily (or drably) as the films they favour. Consonant with the glossy aesthetics of the Hollywood fare it prefers, this culture preens its usages by the light of the slick and predictable movies it prefers. Hopefully, meanwhile, something about the film remains ineffable until next time. After all, new films are simply films one hasn't yet seen.
All Romney quotes excerpted from Short Orders, Serpent's Tail, 1997.
On this website see: