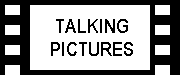 Among other things,1999 marked the 100th anniversary of the birth of Alfred Hitchcock. Spookily enough (or maybe not - Hitch was, after all, a master planner), the actual date of the centenary was Friday 13th August. The BFI celebrated Britain's most renowned film director with a series of events under the heading The Ultimate Hitchcock. The undoubted highlight of the proceedings was a massive retrospective at the National Film Theatre during August and September. The season included restorations of two of the Master's British silents, The Lodger (1926) and The Ring ( 1927), plus a rare screening of the original version of The Man Who Knew Too Much (1934). On the legendary day, Friday 13th August, the director's daughter Patricia and actor Farley Granger took part in The Guardian Interview at the NFT, after a screening of Strangers on a Train (1951).
Other events included a three-part exhibition called Mr Hitchcock presents... the three faces of Alfred Hitchcock in the NFT Foyer Gallery and an exhibition at the soon-to- be-renovated Gainsborough Studios, where the big man made some of his early films.
Hitchcock was born in Leytonstone in London and raised as a Catholic. He was a title designer for the London Branch of Paramount's Famous Players-Lasky before he made the move into directing. The Lodger was his first 'real' film and very well received. In 1929 he made Blackmail, the first British 'talkie', and went on to direct a number of thrillers that cemented his reputation as a great British film-maker, including: The Man Who Knew Too Much, The 39 Steps (1935) and The Lady Vanishes (1938). 1939 saw Hitchcock leaving for Hollywood, having signed a seven year contract with Gone With The Wind producer David O. Selznick. His American career began auspiciously, with Rebecca (1940) winning the Best Picture Oscar. Classics such as Shadow of a Doubt (1942) and Notorious (1946) followed, and at the end of the 40s the director set up the short-lived Transatlantic Pictures, which collapsed after the failure of Under Capricorn (1949). Hitchcock moved to Warner Bros. (Strangers on a Train, Dial M for Murder (1954)) and then Paramount, where he made some of his greatest movies: Rear Window (1954), Vertigo (1958) and North by Northwest (1959).
His arguably most popular and notorious work came in 1960 with Psycho. The story of a boy and his mother, it re-wrote the rules on how to make a horror movie - and how to sell it.
Next Hitchcock did a stint at Universal, filming The Birds (1963) and Marnie (1964) with Tippi Hedren, the favourite (in an allegedly rather dodgy sense) of all his icy blondes. His final movies were the thrillers Torn Curtain (1966) and Topaz (1969), Frenzy (1972), and the mischievous Family Plot (1976).
Despite never winning the Oscar for directing, Hitchcock did receive the AFI's Lifetime Achievement Award as well as a knighthood in 1979. He died on 29 April 1980.
Matthew Leyland