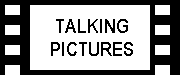 The beginning of the 1990s saw a rash of new A-Z movie guides to join the many similar titles already available. This piece takes a critical look at the main ones. It also, slightly light-heartedly, gives a one to four star rating for each one. If it seems harsh to judge years of work in a few lines, remember that's what these books attempt to do.
Elliot's Guide to Films on Video*, second edition, by John Elliot. London, Boxtree Books, 1991, £14.99. 10,500 entries. Title, star rating, certificate, director, country, year, running time, video distributor.
Useful because it lists films' (theoretical) video availability and their distributors, this guide is quite conventional in its critical judgements, from The Battleship Potemkin ('brilliant use of montage') through Saturday Night and Sunday Morning ('the first in a batch of fresh, raw working class dramas') to The Curse of Frankenstein ('gave rise to an interminable succession of lurid and increasingly cliched horror films').
Halliwell's Film Guide**, eighth edition, ed. John Walker. London, Harper and Collins, 1991, £30. 17,000 entries. Title, star rating, country, year, colour/widescreen processes, production company/distributor, producer, writer, director, cinematographer, music, cast, Oscar/BAFTA nominations and awards.
Anyone who uses Halliwell's books is familiar with his quirky style and individual premises. His tastes are mainstream but also irritatingly middlebrow, and movies made since 1960 get short shrift. The last film to get a four star rating is Bonnie and Clyde, when surely there should be an equally important film among, say, The Godfather Part II, Taxi Driver, Star Wars, E.T. and Hannah and Her Sisters. Nonetheless, this is the most comprehensive guide to film credits, even if they're not always accurate. After Halliwell's death, John Walker has updated the book dutifully, but without Halliwell's lively, if jaundiced, prose style.
Leonard Maltin's Movies and Video Guide**** (formerly TV Movies), 1992 edition, ed. Leonard Maltin. London, Penguin, 1991, £7.99. 19,500 entries. Title, year, country, colour or black and white, running time, director, cast, US video availability.
The best of the batch: Maltin and his staff of reviewers deal with more films than any of the other guides, get their facts (and, most difficultly, running times) scrupulously right and are concise and perceptive in their judgements. Obscure exploitation flicks generally get treated equitably alongside more prestigious output - and British films get surprisingly comprehensive coverage. A book for almost all tastes which avoids glibness.
Movies On TV*, 1992 edition, ed. Steven H. Scheuer. Bantom Books, 1991, £7.99. 9,000 entries. Title, year, country, star rating, cast, director, running time, US video availability.
The longest standing of these books (originally published 1958) has been somewhat superseded by Leonard Maltin's, which covers the same ground more reliably. It's useful but the reviews don't have the sparkle of Maltin's team's - and the criticism is sometimes quirky. Profoundly impressed as I was by Star Wars and Raiders of the Lost Ark, it's unsettling to read reviews of both that begin 'Zowie! '
The Time Out Film Guide***, second edition, ed. Tom Milne. London, Penguin Books, 1991, £9.99. 9,500 entries. Title, director, year, country, cast, running time, video availability.
This one claims to be different, rightly arguing that many film guides' attitudes 'are too often a compound of middlebrow and fan magazine'. The introduction to this collection of Time Out reviews since 1968 says 'B movies like Edgar Ulmer's Ruthless, or Jack Arnold's The Incredible Shrinking Man, poverty row's equivalents to Orson Welles' Citizen Kane and Stanley Kubrick's 2001: A Space Odyssey, can hold their heads high.' But the book is not always as fresh as it claims. Like Halliwell, for example, it lumps the Carry On series together in one entry: 'Slapdash in conception and execution, the films nominally satirised British customs and institutions or other movie genres'; and Gilbert Adair accuses Steven Spielberg of making films for 'infants and critical regressives'. But the relatively small selection of films allows the reviews to be longer, and many are thought-provoking. David Pirie's pieces on horror movies are especially worth reading.
Variety Movie Guide**, first edition, ed. Derek Elley. London, Hamlyn, 1991, £12.99. 5,000 entries. Title, year, running time, country, colour or black and white, video availability, director, producer, screenwriter, cinematographer, editor, music, art director, cast, production company, Oscar nominations and awards for best picture.
Like the Time Out guide, this takes a smaller selection of films and devotes more space to each. The reviews are culled from Hollywood's leading trade paper and are invaluable in giving a contemporary perspective on each film. The only drawback is in the way the pieces have inevitably been shortened for the book: it reads as though many of the more interesting comments have been pruned in favour of somewhat clumsy synopses. Variety's famously hard-hitting prose seems to have been softened.