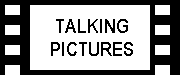 In All Sincerity…Peter Cushing is a new book examining the career of the gentle man of horror. In a career spanning six decades and many mediums, including film, television, theatre, radio, and writing, Peter Cushing has been hailed as a consummate actor who was loved by both fans and co-workers alike. Whether through his early days touring with Laurence Olivier, becoming England's first television star, recreating the characters of Baron Frankenstein and Abraham Van Helsing for Hammer Films, or appearing in Star Wars, the most famous science fiction film ever produced, Peter Cushing exemplified dignity, preparedness and dedication to his craft. Four years in the making, In All Sincerity…Peter Cushing breaks down the actor's career into decades from his very beginnings in local theatre, his stint in Hollywood, and his rise to fame as the king of horror and beyond.
Over eighty actors, actresses and directors have contributed to the book, including Val Guest, Francis Matthews, Brian Cox, Yvonne Monlaur, Mark Hamill, John Carpenter, Ted Newsom, Caroline Munro and the late Sir Nigel Hawthorne.
Featuring over one hundred pictures, In All Sincerity…Peter Cushing includes some rare and never before published photos from such events as Cushing receiving his Daily Mail Award for best actor of 1953, at leisure; indulging in his love of painting, his appearance at the premiere of Brides of Dracula, and the 1992 opening of 'Cushing's View.' In All Sincerity…Peter Cushing offers fans a personal look at a truly talented man.

YOU COULD OWN A GENUINE PIECE OF PETER CUSHING MEMORABILIA:
GBU Publishing is offering all customers who place an advance order for this book the chance to win an actual letter written by Peter Cushing to the BBC in 1986. It is on a piece of Mr. Cushing's official stationery, written on both sides, and signed by him. All names and addresses will be kept on file, and at the time of the book's publication will be entered into a draw - the first one drawn will win Peter Cushing's letter. We are taking pre-orders now. This 1,000 copy limited edition hard cover book will include dozen's of rare black and white photographs and come with a full colour dusk jacket. We anticipate the book running at 192 pages, and it will be supplied with a numbered and signed certificate by author Christopher Gullo.
Please visit the publisher's website for more information: http://www.gbupublishing.com/
To pre-order this book please forward your full name and address, the quantity required, along with your credit card details and e-mail address, to - gbupublishing@tiscali.co.uk or go to the 'contact us' page and send us a cheque by mail. Alternatively, you may fax or phone your details through. This book will not be available in bookstores.