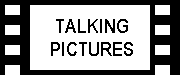 This American book is designed to bring Bresson's films to a wider English-speaking audience. The author has also published studies of Kieslowski, Rohmer, and Tarkovsky, who are also among my favourite directors. Each of Bresson's films has a chapter devoted to it, except for his two earliest which are compressed into a single chapter. Each chapter is divided into three sections: introductory comments, a detailed plot-summary, and a critical analysis. All this is bookended by an initial chapter called "A Demanding Artist Who Respects His Audience", and a final chapter called "Images in a Certain Order". Many examples are given of particular aspects of Bresson's films, such as the unmotivated actions of the characters, the frequent theme of the corrosive effects of money, and the fact that the paring-down or elimination of anything unnecessary means that so much action can be packed into (mostly) very short running-times.
However, a major criticism of a book like this: THERE IS NO INDEX! I was glad to see, however, that the author confirms my belief that Bresson was born in 1901, not 1907 as some sources state (this error originated, I think, from a mistake in a 1980 reference book). Also, I was surprised to read, on page 107, of the "bright colours" in the acclaimed final scene of Au Hasard Balthazar, a film shot in black-and-white!
Overall a useful and helpful book for those coming to Bresson's films for the first, or even the fifth, time.