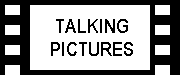 A feature-length Japanese animation based on the all-action sci-fi manga by Shirow Masamune who did Ghost in the Shell. Featuring next generation technology, CGI, hand-drawn and 3D technology, this has an added bonus due to the producer credit, John Woo, so this being Woo we get slow-motion gun play, over-the-top action sequences, mano a mano machismo screaming out of the screen and a woman crying over it.

The year is 2135, half the world's population is left following the a non-nuclear war and there is one hope left, the city of Olympus. In this high-tech land full of security and corporate control they have created Bioroids, genetically cloned humans who are manufactured with no emotion to avoid further conflict. ESWAT, is an elite police strike force, are charged with monitoring a global summit being held in Olympus. Deunan is our heroine, who has a partner Briareos, who is part-cyborg; their friendship is tested when Tereus joins the team, but Tereus is a genetically engineered soldier from Briareos' DNA. This along with a constant terrorist threat means differences have to be put aside while the battle commences.

The CGI allows for sweeping vistas and landscapes and the future cities do look exotic and perfect, but the problem of human tone is still one, even the ugly people look good, so smooth and pefect, the cyborgs metal is even shiny.

There is a comment though on the cyborgs who have more character than the humans, as if man made a better job with machines than themselves, begging the question of nature versus nurture. This prophecies a comment made by a character near the end of apocalyptic meanderings, 'man yearns for his own destruction, but spirit pulls him from the brink'. Much like the fact that Briareos' only emotion he can express (even though he is a clone) is one of love. Love and spirit are one then like now.

But it has its finger on the pulse with regards to current affairs - a cynicism of big-business intentions, that the population are merely mice being controlled, the threat of terrorism everyday to a big global city and the over-reliance to couple culture and civilisation together. Someone refers to Olympus as a work of art, but culture is just an extension of the civilisation that existed previously. Unfortunately because this is animation there are generic stereotypes built on western influences, the big egghead brute of the team is dubbed in an Brooklyn voice; the female head of the big-business is cold hearted and the German scientist has a Hitler moustache. But had it concentrated more on action set-pieces than the obvious plot it would have provided a greater visual feast, not to say that what you do see is not.

One for aficionados but also for those who wants to show this to children who can learn something through animation it would be of benefit.