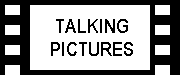 Paul Giamatti first came to prominence with his role as Bob Zmuda opposite Jim Carrey's Andy Kauffman in Man on the Moon; but I first noticed him in two very small roles. As Howard Stern's lamentable boss, Kenny, in Private Parts where he is all mouth but no bite and as a smoking bellboy in My Best Friend's Wedding who give Julia Robert's character some advice in a corridor. Both small roles and typically throwaway but there is something endearing and charming about Giamatti - the actor who gets that role as the schlub, the schmuck, the fat guy with his unique shape.

Barney's Version is directed by Richard J. Lewis, and based upon the novel by Mordecai Richler with a screenplay by Michael Konyves. The film stars Paul Giamatti as the synonymous Barney Panofsky, the unrepentant callous individual who despite being a somewhat drunk and acerbic in his intellect, is nevertheless irresistible to women. During the flashbacks that Barney has during the film's duration we see him with three desirable women, all whom marry him. The third and final wife, is in particular a saint, and he ultimately ruins his happiness with her and their life together. Ultimately, Barney's brain begins to slow down and he becomes a mere ghost in the world as his family and friends begin to shun him.

Giamatti pleasingly gets his teeth into the role, as we follow Barney from his bohemian musings in Rome in the late 70s and his first misguided marriage to Clara who he believes he made pregnant; to his second marriage to the Jewish princess played by Minnie Driver, like the novel (which saved its most acerbic comment for) is not granted a name. The sequences with Barney and this princess and her family are the most cynical of the literature and the hierarchy of Jewish stereotypes; the father in law looks down upon Barney's father, Izzy (played with aplomb by Dustin Hoffman) with disdain when he bemoans his lack of career progression saying stating maybe his lack of integrity when assaulting criminals might have served him better than focus on predjudices.

And yet, this film does have a unique heart. Barney meets his third and final wife, Miriam Grant (stunning Rosamund Pike) at the wedding of his second wife. He leaves his wedding and tracks her down saying run away with me, when cooler heads should prevail. Barney later calls Miriam as he is signing his divorce papers for a date a few years later, and on their first date he retches up all the whiskey he hoped would give him courage. Barney is an old romantic, and that is where the heart comes from, and once he and Miriam are married these are shown to be the best years of his life - two kids, success with his television production company (Unnecessary Productions - which gets a good pun) and respect from his peers.

The only cloud that hangs over him is the unsolved disappearance of his friend Boogie (Scott Speedman), who fell into the lake by his country house after an argument involving a gun. We are led to believe that Barney shot Boogie, and the unrelenting pursuit of a Detective O'Hearne (Mark Addy - yes that guy from the Tesco's adverts and The Full Monty) to prove Barney's guilt makes us believe that maybe Barney did do it.

These questions are lightly glossed over by the film's conclusion, which is a reflection on the at times whimsical screenplay and light direction, both of which are helped by a stunning central performance by Giamatti who is at times beguiling yet never less than charming. He is helped by Pike, who in a role that could easily be wafer thin on paper is elevated by her elegance and radiance she brings to the role; two tropes lacking in a lot of North American cinema lately.

It is important to note, that this is a Canadian production, and the film never over states that fact in the production unlike other films that may blare out the nationality of the piece, but the attention to period detail and set design puts some American productions to shame.

Barney's Version is for you if you like films similar to Mr.Holland's Opus that tells the story of someone through the decades and is helped by a powerhouse central performance by an under-rated performer, this is for you although it does include a little bit more swearing and sex than the Richard Dreyfuss film. And as to why Giamatti did not get a Leading Actor nomination from the Academy, well that is as tragic as Barney Parnofsky's life wants to be.

Paul Giamatti, is one of my favourite actors to come out of Hollywood in the last ten years. My favourite performance of his remains Miles in Sideways, a performance that wrongly was ignored by the Academy awards that year whilst his co-star Thomas Haden Church did get a nomination. This year Giamatti won a Golden Globe for Best Actor in Comedy, and rightly so, alas he was again ignored by the Academy for this performance, admittedly a good field of actors but should not it be time to give a guy his due.

Barney's Version (15) is released on DVD and Blu-Ray on 23rd May from Universal Pictures International Entertainment with a £19.99RRP (DVD) and £24.99(Blu-Ray). The bonus features include a special featurette.
Jamie Garwood