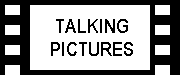 Rowan Joffe's feature film directorial debut is an updating of the famous novel Graham Greene, originally adapted in 1947 by the Boulting Brothers starring a young Richard Attenborough in his most famous role as Pinkie Brown.

Sam Riley, who played another doomed idol as Ian Curtis in Anton Corbijn's 'Control', plays Pinkie this time in 1964 Brighton. The updating of the film to this period in British history is a nice piece of contextuality - the backdrop is the impending battle between mods and rockers that terrorised British seafronts as rebellion took hold and the youth rose up against the establishment, the death penalty was still being enforced and betting shops had been legalised, with many turf accountants popping up all over British high streets.

Pinkie's gang leader, Kite, is murdered by rival gang members - there begins a battle for power of Kite's gang between Pinkie, the young upstart, and the old-timer, Spicer (Phil Daniels) who wants it done his way. Pinkie recognises one of the attackers Fred Hale, he tells Spicer and his cohorts Dallow and Cubitt, they decide to scare Hale. Before they do so, Hale bumps into Ida Arnold (Helen Mirren) owner of a tea room in town. Hale tries to be friendly with Rose (Andrea Riseborough) on the pier to evade capture, ultimately though Pinkie corners Hale and bludgeons him to death. The key is though that a pier photographer took a picture of Spicer attacking Hale, the picture is evidence. So Pinkie must get friendly with Rose to get the ticket for the negative - which he does, but soon Ida is searching for Hale's killer and Rose's new boyfriend may provide the link.

The film does not make light of these coincidences, instead treating Brighton as its own world in spite of the bigger picture and creating a claustrophobic feel to the events that take part in it. The film does veer into melodramatic territory once Ida realises that Rose's life is at risk after Pinkie and her marry, meaning no court will ask a wife to testify against a husband. But throughout, there is a noir feel that is done clinically and technically by the cinematography of John Mathieson (Gladiator) lending a classic sheen to proceedings , although the original music by Martin Phipps can be at times a little overbearing such as when Pinkie and Rose first clinch on a clifftop, the music give a scene already mawkish a higher level of kitsch that it probably did not deserve.

The film first premiered at the Toronto Film Festival in September 2010, and was initially trumpeted as the most likely British film to succeed during Awards season built mostly around the performance of Andrea Riseborough, her role is a little hysterical. How can such a beauty be so blind to the evil of a maniac like Pinkie, but the role comes alive when she bellows at him on the pier after their civil ceremony, in that moment you know a woman is trying to cry out of this girl.

Unfortunately, it seems the high regard that the original film is held in has been to the detriment of this stand alone adaptation. As the young Joffe has said in interviews, it is not a remake, more an updating as the 1960s setting can attest to. But unlike the original which hid a lot of the violence from the audience in its editing, this film does not hold back - displaying the violence that is in the novel boldly on the screen and not even denying us a suicide pact to boot.

There are certainly more pros than cons for this film, but the initial fanfare has died away on these shores unfortunately. Technically efficient and acted brilliantly by its accomplished cast, the only drawback of the film is its reprisal of the ending from the 1947 version. Alluding to the Catholicism of both Rose and Pinkie in locating the finale at a convent and a camera tilt to a fixed crucifix on the wall. The scene shows Rose listening to a record player of a vinyl record Pinkie made for her at her behest (she asks for sweet nothings, but Pinkie delivers a vitriolic outburst of hate and disgust), the audience anticipate that maybe Rose will finally realise the truth, fatefully however the record player sticks on his words 'I Love You' making sure that Rose stays deluded and leaving us with a misogynistic rendering of the character as the final image. A shame that a film that was so brave to depict women of both Mirren and Riseborough's calibre should end on such a sour note.

Jamie Garwood