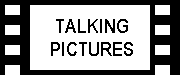 Released on DVD for the first time by Park Circus Films - tells the story of Mary (Patricia Roc), who raised in a convent leaves for the Isle of Skye to serve an old man. Whilst there she works hard for the old fiend, who reminds her constantly at how lucky she is to have a roof over her head; while also deflecting advances from the men folk of the island. She works for the Macraes, a family who have a long rivalry with the McFarishes. Mary's arrival provokes latent sexual urges in the young men of the families, the rivalry reaching boiling point on certain occasions.

Melodramatic by genre, but not a women's picture as Ms.Roc portrays Mary as a woman far from vulnerable who can fend for herself as she has to resist physical advances on more than one occasion. The film is quite suggestive, unlike the fiercely proud and distinctly British fare of the era from Powell and Pressburger, and earlier works of David Lean in his collaborations with Noel Coward.

The otherness of the region and distinct air of non-Englishness on display helps proceedings, as you treat it as something altogether different from that which you are used to. The scenery is shot beautifully, giving the highlands a sense of dread as this omnipresent character.

The night scenes when Mary is either out with Fergus (Maxwell Reed), John (Duncan Macrae) or at a social event, Roc is shot with her hair down and suddenly the Scottish landscape is like

Brigadoon

with Northern lights beaming in the background, so there is a hint of fantasy and even, magical realism taking place.

Featuring John Laurie (of Dad's Army fame) in a supporting role with his wild eyes acting for him, this film has more redeeming features for you to watch than for you to turn off. Even if it does feature one of the most ludicrous fist fights between Fergus and John which peeters out in a waterfall, and the first (and only) example of death by goose.

Surprisingly suggestive for its time in the immediate years following World War II, the film is pleasantly entertaining and at times a tense viewing but that is credit to the director David MacDonald, who directs with vigour and assurance, and he is himself helped by a brilliant leading performance from Roc as the feisty and irresistible Mary, and it is a shame that Roc never reached the exalted heights of her contemporaries, Margaret Lockwood and Vivian Leigh.

Available for the first time on DVD,

The Brothers

is out on Monday 6th June from Park Circus films for £15.99 RRP

.
Jamie Garwood