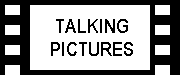 Andrew Bujalski the supposed figure head of the New York film-making movement termed as Mumblecore and the director most likely to break out from that group into traditional narrative storytelling cinema, returns with his newest film, Computer Chess, a love letter to chess playing but more so a love letter to the computer programmers who achieved the systems and programs that allowed computers to beat master chess players by programming moves into the computer prompting the next move.


Bujalski takes an unusual approach of the process. The film is set in the mid 1980s at the cusp of the boom of Silicon Valley and the start of home video gaming with Nintendos and Sega's around the corner for our recreational use. If you wanted to play video games you had to go to specially built arcades to play Pac-Man or Donkey Kong.


Shot with PortaPak cameras of the era on analogue video and in black and white, this gives the whole film a sort of archival look as if you are watching a fly on the wall documentary or footage before it is processed into colour in post-production.


Bujalski accomplishes another mean feat by garnering some brilliant performances from his unprofessional cast, many have been cast either because they look like computer analysts or the fact that they can awkwardly when in a larger group; the naturalistic performances make you feel at times like this is a documentary.


Computer Chess has its own flow and speed which some viewers may find a bit unnerving and surreal, this reviewer found the film to have its own charm that was based around the affection portrayed due to the limitations of the equipment and the nostalgic tone with the melancholic feel of the black and white photography.


In this current day of age of society overcome by technological advances, where computers and tablets are becoming increasingly smaller and smaller, it is nice to harken back to a time when computers where as big as a dining room table.


Bujalski even affords his cast a chance to laugh about the future of computer programming such as when one says, 'You know what the future of computers is...dating' 'What computers are going to date each other?' That sort of dry humour and wit runs throughout the film that allows you to draw your own affection to these oddball cast of characters, who may seem a bit silly on their own, but they are special individuals nonetheless.


Released as a Dual Format (Blu-ray & DVD) edition as part of Eureka! Entertainment's award-winning The Masters of Cinema Series, Computer Chess will be available on home video from 20 January 2014.
Jamie Garwood