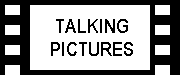 Max Ophuls one and only foray into Italian cinema during his European exodus from his homeland Germany following the rise of Adolf Hitler and the Nazis, brings us a film that fits nicely into his oeurve, but not necessarily one of his best work.

Ophuls is famed for his melodramatic work, involving female characters whom are downtrodden by society and are not blessed because their beauty is seemingly a curse and not a gift.

Isa Miranda, plays the role of a star (in the part that made her a star) pressed to revisit the entire history of her lovers to the present moment through an inexorable web of flashbacks... brought on by the anaesthetic following a failed suicide attempt. From the record revolving on a turntable in the picture's opening moments, Ophuls sets into motion one of those roundelays with fate that he alone could pull off with such eminent elegance. The film made in 1934, is startling in its use of flashback and differing fade in techniques are ahead of its time, we are fed different flashbacks and are granted a greater understanding of her desperate mishaps in love, starting with the unfortunate suicide of a teacher who loved her as a student up to all the men in her life from admirers to publicists to managers all hustling and bustling wishing for the best for her - whilst missing out on the fact that she is a person, not an object.

This serves as a contradictory point of Ophuls oeurve; he was a great admirer and lover of women, yet the films he made in Hollywood, for example, Letter from an Unknown Woman and The Reckless Moment clearly objectify women in the sense. The BFI issued 'Letter' earlier this year, the sheer melodrama whilst indicative of the 'Now Voyager' era, nevertheless the objectificaton of Joan Fontaine's character is very harsh and judgmental. Isa Miranda's character is no different, attempting suicide to thrust the narrative into its flashback structure. The film may argue it is a critique of a grande dame's narcissicm, but would any narcissist take their own life over the joy of seeing one's self again in the mirror.

The filmmaking contains strong thriller elements for psychological suspense and good use of offscreen sound, which would bode well for his Hollywood career, but the female(s) in his films although endangered, are supplied with memorable roles in the European pantheon.

The Masters of Cinema Series is proud to present La signora di tutti [Everybody's Lady], the stunningly beautiful '30s masterpiece by famed auteur Max Ophuls (Letter from an Unknown Woman, The Reckless Moment, La ronde, The Earrings of Madame de..., Lola Montès) starring the legendary Italian actress Isa Miranda. Released for the first time on DVD in the UK on 29 November 2010.
Jamie Garwood