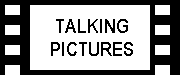 Directed by Craig Viveiros, in his first feature production as writer and director, Ghosted is a hard hitting prison set drama featuring an array of British male acting talent.

Jack (John Lynch) is a model prisoner and wants to remain anonymous and keep his nose clean, however, on the anniversary of his son's death Jack is dealt a tragic blow when his wife ends their marriage. Amongst the prison mayhem, is young Paul (Martin Compston) who is riding with the psychotic 'Baron' Clay (Craig Parkinson). Feeling parental after losing his son, Jack decides to take Paul under his wing and save him from a life of damage that will happen if Paul stays with Baron.

A tough uncompromising portrayal of prison life featuring some fine performances from a strong ensemble. Compston, who first came to attention in Ken Loach's Sweet Sixteen has always had a great presence and is slowly growing into a very mature adult performer. Whilst Parkinson (last seen in Brighton Rock) has a real swaggering menace to him, talking softly with the ability to switch quickly with a look or word.

Whilst the performances are gripping and expected from the cast; the dialogue at times does seem a bit contrived in places - perhaps that is the fault of the generic conventions of prison films. Good guys look soft in prison compared to the pure evilness of the bad guys, who are in prison for a reason.

This is not to do Viveiros a total disservice; the photography is a winner picking up all the burden of prison life on the prisoner's faces and the fight scenes do lend themselves a real viscerality in their brutal rendering.

However, with all prison films the ending comes far too soon where we are left with no answers to some questions left hanging in the air.

Ghosted is out in cinemas now and released on DVD on Monday 27th June by Revolver Entertainment for £12.99 RRP.


Jamie Garwood