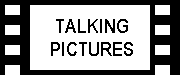 In what looks like becoming a depressing trend for excellent new films, yet another interesting US theatrical release has been ignominiously dumped straight to DVD and video in the UK. Joining the ranks of other good films that have recently suffered this fate, such as Femme Fatale (2002), (one of Brian De Palma's best films), Undisputed (2002) (a terrific prison set boxing drama directed by Walter Hill) and Below (2002) (for my money, better than director David Twohy's much more well-known Pitch Black (2000)), Human Nature is another distinctive script from screenwriter Charlie Kaufman, writer of Being John Malkovich (1999) and Adaptation (2002), and is just as just as off-the-wall and intelligent as these films.

A brief summary of the plot makes the film sound ridiculous, and it frequently features bizarre moments (including a hirsute Patricia Arquette breaking into song and mice who are trained to eat using cutlery!), but it works brilliantly. Arquette plays Lila Jute, a beautiful young woman who has hair that covers her entire body, which alienates her from the people around her. After enduring a painful adolescence, the adult Lila decides to isolate herself from the 'civilised' society that she knows would shun her. However, Lila grows desperate to find a man and eventually returns to 'normal' human life, and shaves off most of her hair to make herself resemble the women around her. She soon embarks on a romantic relationship with the uptight, but friendly Doctor Nathan Bronfman (Tim Robbins), who conducts tests in his laboratory to try to make mice behave like civilised people. A bizarre situation soon gets even stranger when, while hiking in a forest, Nathan and Lila stumble upon 'Puff' (Rhys Ifans), a man who has lived most of his life in the wild in the manner of an ape. Nathan decides to take Puff out of the forest and put him into the civilised world, and attempts to turn him into a cultured human being.

Michel Gondry is renowned for his visually striking Bjork music videos and he directs Kaufman's terrific script unobtrusively, while at the same time conjuring up some striking images. There are terrific performances from Robbins, Arquette and Ifans, and keep your eyes peeled for some familiar faces that make an equally strong impression. Although many will find the film's premise absurd, it often switches from the ridiculous to the sublime in the blink of an eye, and is far more intelligent and original than a host of other, more highly touted, theatrical releases. With cinema screens often clogged up with formulaic blockbusters, and sequels to formulaic blockbusters, it's a pity that yet another film that breaks with convention is sent straight to home video, where it risks getting lost amongst the big budget Hollywood movies that have already played in cinemas.