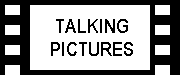 The long awaited sophomore feature from Italian, Michelangelo Frammartino, is released on Friday 27th May; and his second feature after 2004's Il dono (The Gift). First screened at the Cannes Film Festival in 2010, the film is unclassifiable, not tied to any genre specifically but undoubtedly the best cinematic use of goats in film history.

The film's title can be translated as the 'four seasons' or the 'four turns' but is based upon the ideas of animism and reincarnation. As Frammartino states in the production notes, "Man is made of mineral, because he has a skeleton; he's a plant, because he has blood flowing through his veins like sap; he's an animal, because he has mobility; and he's also a rational being. So in order to fully understand himself, a man has to understand himself four times."

The film follows a goatherd - and to quote a Sound of Music - he is a lonely one at that, he works tirelessly and only for the goats, he drinks water with dust mixed in with it, to tend to a tickling cough but it is given to him by the church - the tradition being that it translates as dust being a little particle of God, and dust is the first thing you can see in the light - as you head for heaven. We are witnessing the final days of an elderly man.

But it is the goats who are the stars of the show in this instance, and once the old man passes on, we are greeted with the birth of a kid goat - the film follows the kid on its first steps, before it rests by a fir tree. It then renders its gaze on the tree through the seasons, before it is felled and re-erected in a village for a festival, then chopped into logs and entombed in another scarazzo.

This mise-en-scene is familiar to doyens and followers of the 'slow cinema' so prevelant in European cinema under the watchful auteur eye of Bela Tarr mostly and endorsed by such directors as Abbas Kiarostami.
Whilst the documentary eye of Frammartino is all encompassing, the necessity of these long takes where nothing happens is actually a narrative requirement and part of its development.

Not to say it is all slow and monotonous, Frammartino works a wonderful sight gag into the mix that has to be seen to be believed.

Shooting on a landscape close to the director's home, the film has his indelible thumbprint upon proceedings although it does need to tip its hat to the work of James Benning who gave us 13 Lakes, a director who can take inanimate or non-human objects as the basis for narrative focus and tell a convincing story in the process.

Frammartino does something more than that; he gives us a film that is poetic, spiritual, theological and strangely uplifting at the same time, that is without noting how beautiful the film looks with its sweeping vistas and landscapes, photographed by Andrea Locatelli. A film that is both surreal and real, rational and theoretical, it is a hidden gem and bares to be seen by an audience wider than the typical arthouse crowd.

Jamie Garwood