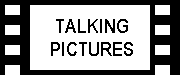 Audiences have a morbid fascination with vampire movies and narratives have developed over recent years to appeal to younger viewers, exploring the links with sexuality as well as the idea of life after death. F.W. Murnau's Nosferatu, released in 1922, is one of the most influential films of all time; a truly dark and disturbing film and a fine example of German Expression using mise-en-scene to enhance the mood of the film. The same is true of Tomas Alfredson's Let The Right One In.

John Ajvide Lindqvist has created a bleak world where two children find comfort in each other's company, an escape from the loneliness they encounter at home.
Although the central characters are children, this isn't a warm and fuzzy story of a lonely little boy befriending a vampire. Well, the latter is true. Rather, the film opens with a middle aged man hanging a boy from his feet in the woods of the middle of the night and slitting his throat, letting the blood pour into a container which can later be feasted on. Right away you anticipate that you are in for a gruesome couple of hours but such brutal scenes are actually few and far between. More screen time is dedicated to Oskar being bullied by his schoolmates and striking up an unlikely friendship with the girl next door.
Last year's teen sensation Twilight introduced the idea of fangless vampires who don't suffer a fiery death when they enter into the sunlight, humanising these so-called creatures of the night. The character of Eli in Let The Right One In is quite similar. Oskar ignores her endless claims that she is not a girl and asks her to be his girlfriend. Like Twilight, it is, at its heart, a love story and Eli is arguably the hero of the film, encouraging Oskar to fight back against his tormentors and rescuing him from a life of solitude.

I was a bit disappointed with this film having read nothing but good reviews about it. It scored 98% on the Rotten Tomatoes tomatometer and picked up 48 awards including numerous critic and festival awards. I went into it expecting to see a classic vampire movie, not the melancholy drama it turned out to be. I hadn't read the book beforehand so I didn't have to worry about the segments that weren't included in the transition from page to screen. From what I can gather from fans of the source material, a lot of sexual themes have been removed as well as back stories including castration and paedophilia which, understandably, would have made this very difficult viewing.

I think that part of my problem with the film was that I didn't really know what kind of film it was. It isn't a traditional vampire film; it is more a blend of genres: horror, drama, dark comedy, coming of age. The killings are quite horrific yet the friendship that blossoms between the two leads seemed to lead the film. There is very little incidental music too so the dialogue takes centre stage. Eli is a great character and well played by Lina Leandersson but Oskar (Kåre Hedebrant) annoyed me to the point where it actually affected my enjoyment of the film. I'm not sure if this is the fault of the character or the actor but I didn't feel that sorry for him. Eli, on the other hand, is humanised and I identified more with her as she is so lonely and can never get close to someone or stay in the same place too long. It's not often that audiences are asked to sympathise with a cold-blooded killer.
Recent vampire films have had a tendency to glamorise the anti-hero's lifestyle, but Eli's killings are acts of desperation. However, even when she is hungry and Oskar cuts his hand, she tells him to leave rather than devour her new friend. The pair often communicate via Morse code through the wall which divides their bedrooms, reminding the viewer that although they can sit together and ponder over how to master a Rubiks cube, there will always be something that keeps them apart.

There are two major special effects scenes in the film that really stand out for me for all the wrong reasons; one is even laughable. The sequences involving cats and a fire looked as if scenes from another film were randomly cut and pasted into this one. It really took me out of the viewing experience for a couple of minutes as I wondered what the hell was going on.

Don't get me wrong, I quite liked the film, just not half as much as I expected to. The mise-en-scene is breathtakingly beautiful and Eli is a fascinating character but the sub-plot featuring a fighting couple seemed under-developed and the final scene, although bittersweet, seemed unnecessary. I would have preferred an ending that echoed the opening of the film

Western filmmakers have an obsession with remaking foreign films and rights were bought for an English-language version before the original was even screened. Cloverfield director Matt Reeves has signed on to write and direct with plans to release the film next year. I would highly recommend seeing Alfredson's version before it is made into a mainstream blood and guts fright fest.