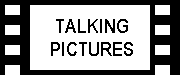 It is that time of year again and the official run up to the Academy Awards starts in earnest. Think of the Awards season, as a long marathon, someone shoots the gun at Leicester Square on October 12th, with a water station situated on October 27th, with the chequered flag in Los Angeles in late February.

My memories of the various LFF's I have attended are always being able to see George Clooney's newest film, be it Up in the Air, Good Night and Good Luck, Fantastic Mr.Fox; he returns again this year with two more films one serious, one comedy. The serious one is when he is in political mode and is the American Express Gala, The Ides of March, which he directs and co-scripts (with Grant Heslov). Clooney also stars as democratic Presidental hopeful Morris, with a new spokesman Myers (Ryan Gosling), the film is wordy and focuses on backroom shenanigans. The comic role is Clooney in Alexander Payne's new film The Descendants, based on the novel by Kaui Hart Hemmings, based in Hawaii - Clooney plays a father who has re-examine his past to embrace his new future. The combination of Payne with Clooney playing one of his misanthropic male leads is tantalising.

Clooney's role as festival star is being fought over by our own Rachel Weisz who stars in both the opening and closing gala films. The former is 360 by Fernando Meirelles (they have worked together on The Constant Gardener) and this film focuses on how different levels of society and their sexual relationships can transgress sexual boundaries. The star-studded cast puts it in the same boat as Babel but a cast that includes Jude Law, Weisz, Anthony Hopkins and Ben Foster means that this may escape the fatal banality of that bloated vessel.

The closing film is the return of Terence Davies to fictional cinema (following his epic documentary on his hometown Liverpool's visual history) nice time adapting Terence Rattigan's The Deep Blue Sea, set in 1950s London still suffering from the aftermath of World War II. Weisz is joined by two of our better thespians, Tom Hiddleston (Thor) and the great Simon Russell Beale.

Other Galas screenings allow first time views in Britain for new films from Nanni Moretti (We Have A Pope), Ralph Fiennes' directorial debut (Coriolanus), David Cronenberg (A Dangerous Method), Steve McQueen (Shame - which just won Michael Fassbender a Best Actor award at Venice), Michael Winterbottom (Trishna) and Madonna (W.E.)

Also to be screened are the exciting We Need to Talk About Kevin by Lynne Ramsey, starring Tilda Swinton in an Oscar worthy performance. There are also screenings of films by such erstwhile talents like Richard Linklater, Roman Polanski, Todd Solodnz, Bruno Dumont, Takashi Miike. New documentary features are prominent from Frederick Wiseman, Jonathon Demme, Werner Herzog and Nick Broomfield, who goes in search of an interview with Sarah Palin in 'You Betcha!'

As ever it is not just about new Hollywood and auteurs from across the globe being given exposure, new British cinema is celebrated. And this is a vital platform for these young filmmakers as often these films will fail to be released in this country, an unfortunate statement but alas one of fact - Richard Jobson returns with The Somnambulists (focusing on soldiers returning from Iraq) and Dexter Fletcher's debut feature Wild Bill look like highlights.

A favourite strand of the LFF programme is the Treasure of the Archives series; this year we have Cry Danger, a crackerjack film noir from Robert Parrish; a restored The Caine Mutiny starring Humphrey Bogart; Roberto Rossellini's The Machine that Kills Bad People from 1952 and a colour feature from Kenji Mizoguchi Shin-Heike Monogatari (Tales of the Taira Clan) from 1955.

As ever I suggest you seek out something different, be it a French film in the French Revolutions strand or one of the always good short cuts and animation. You would be spoilt for choice if you are a cineaste or suffer from cinephilia like myself; but you certainly would be hard pressed not to find something to your liking.

Public booking opens on September 26th, by person or phone or online.

Phone 020 7928 3232 (9.30am-8.30pm daily), Online visit www.bfi.org.uk/lff or go to the counter at the BFI Southbank up to and during the festival.

It promises to be a brilliant experience as always, and it never fails to disappoint.


Jamie Garwood