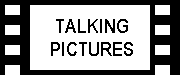 Of Time and the City marks the comeback of one of Britain's greatest filmmakers, Terence Davies. He is also one of the most under-rated and under-appreciated directors, making films that aren't commercial enough to draw large audiences but have been recognised by film festivals the world over. Nominations have come from BAFTA, BIFA, Cannes and Toronto and more are sure to follow now that he is back on top form. This is his first film since House of Mirth was released eight years ago and it has been very well received by critics. Mark Kermode loved the film, going as far as to suggest that there may not be a better film released this year and Empire Magazine's Ian Freer gave it a five-star rating, describing it as the most poignant, beautiful, entrancing British film of the year. Now, if that isn't high praise, I don't know what is.

Davies' latest offering is his first documentary, dedicated to his home town, Liverpool (it was made to coincide with Liverpool's status as the City of Culture). The word documentary tends to disinterest most of the cinema-going public (I'm sorry, but I have to generalise here) and, in my opinion, this film will appeal to the minority. Having said that, Of Time and the City deserves to be seen by a big audience. By watching it in a cinema as part of a collective audience, viewers will come to a common understanding. Davies talks of his childhood with a wry bitterness rather than dwelling on fond memories and there is a recurring idea of the loss of childhood innocence which everyone can relate to, recalling our own younger years and re-igniting feelings we thought were long gone.

Film is such a powerful and emotional medium; it allows us to really feel. We can connect to other people's stories and lose ourselves in a world that is completely different from our own yet the same. As we grow up, people and places change, and we can never get back what we had when we were young, when everything was so simple. Davies discusses his most pertinent childhood memories, looking back with a tinge of regret and degree of irony.
Featuring a mixture of genuine archive and contemporary footage, the film reeks of authenticity and as Davies recounts his life through his narrative voiceover, the viewer retraces his footsteps and is allowed a look into what life was like for the director growing up in Liverpool.

Think of Woody Allen's Manhattan, the short film collection Paris Je t'aime and last year's indie sleeper In Search of a Midnight Kiss and you're halfway there. Of Time and the City is masterful, memorizing and deeply poetic. Kermode was right, you won't find another film like it this year.tarring Julianne Moore, Mark Ruffalo, Gael Garcia Bernal, Danny Glover.