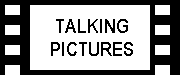 Out on DVD from Monday 25 July 2011, Jim Loach's feature film debut tells the story about Margaret Humphreys, a woman whose courage to expose a scandal that the British government kept secret for decades.

The scandal concerns the deportation of thousands of children from the United Kingdom to Australia, under the impression that their parents were apparently dead, they were sent to children's homes on the other side of the world, where they were subjected to appalling abuse. When promised oranges and sunshine (an advertising slogan which could still be in place for Australia), the children were given hard labour and life in institutions. Amazingly, this practice was set up in the late 19th century and continued into the 1960s.

The name of the director may look familiar, and yes Jim Loach, is the son of the renowned director Ken Loach; and the social injustice of the storyline and social significance coupled with a stirring main performer defiant in the eyes of the powerful authorities, would well have appealed to Loach Senior in a parallel universe. However, Loach Jnr, does show himself to be more than adept when dealing with the contentious subject matter and difficult narrative plot points.

Helped by an esteemed ensemble cast who lend gravitas and emotional depth to proceedings. Emily Watson plays Ms. Humphreys and the determination is apparent underneath that timid exterior, the fierceness of her intentions seen in her eyes. The ability to take on two national governments, reunite families and gain official apologies from those governments means the story had to be told on celluloid and Watson does more than enough to gain our affections for her character's attempts to overcome overwhelming odds.

In support, are two fine actors, David Wenham and Hugo Weaving (one of my favourite actors), who lend solidity to parts that in the hands of other actors and in lesser films would have been brushed aside by a more formidable lead actress - say if Meryl Streep did her best English accent perhaps. But Weaving, who plays one of those moved children Jack, is quiet and introverted, but the emotional scars he has endured are more than visible, while Wenham's Len hides it under an extrovert brashness which could easily be mistaken for arrogance. These parts are not meant to be showy roles, instead they are there necessary to the journey of self-discovery for Humphreys.

Credit to Jim Loach for showing enough discipline in his filming style, borrowing from his father's template for powerful lead performance mixed with a social conscious narrative and a shooting style that is both accessible and fluent. Loach stands as a director to watch in the future, and as this is his debut feature, the future bodes well.

Oranges and Sunshine is available on DVD from 25th July 2011 for £17.99 RRP from Icon Home Entertainment.


Jamie Garwood