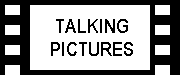 To mark the accession of 10 new countries to the European Union in 2004, the Foreign Office has sponsored a season of 9 new films from Eastern Europe. They are due for screening at The Other Cinema in London from 19-28 September 2003, with a limited nationwide tour to follow. Not all the 10 countries are represented; there is nothing for example from Hungary, home of two leading world directors in Miklos Jancso and Bela Tarr. Two films are from the biggest prospective entrant, Poland, whose national cinema over the last half-century is surely among the world's finest (Wajda's Ashes and Diamonds and Kieslowski's Decalogue should be in anyone's Top 40). Strangely there is a film from Turkey, which is not among the 10 countries. Below are some thoughts on the two films I have seen.
This is a highly accomplished but very downbeat first feature by Polish-born Hanna A W Slak, comes from Slovenia. The central character is Lupa (Manca Dorrer), a boyish young woman who tries to cure her brother Gladki (Kolja Saksida) of his heroin addiction after he jumps from the balcony of the hospital where he is being treated. She locks him in a rented room where she tries to protect him from a violent drug-pusher to whom he owes money, from the sullen landlady, and from doctors and social workers. Disturbing memories from their childhood return, and hopes of a redemptive outcome are dashed. Visually, Slak seems strongly influenced by Kieslowski, with plenty of reflections in mirrors and glass and a largely greenish tone reminiscent of A Short Film About Killing. A film filled with hand-held close-ups, almost to the point of parody, Blind Spot is ultimately somewhat depressing, though Lupa's spirited selflessness shines through.
Brats sounded to me like the Czech title, until I realised that it is the English translation of Smradi, directed by Zdenek Tyc and based on the personal experience of novelist and screenwriter Tereza Bouckova. Marek (Ivan Trojan) and Monika (Petra Spalkova) have moved from Prague to the country in search of a cleaner environment for their asthmatic son and for his two older adopted Roma brothers. The smashed windscreen of a neighbour, which he blames on "the gypsies", and in particular on one of the adopted sons, leads to confrontation, racial hostility, and a crisis for the family. A light touch with hints of the "Czech New Wave" of the 1960s, lots of bantering between children, and appealing characterisation help to offset the darker aspects of the subject-matter.
Of the remaining films those which, on the basis of having won festival awards, can probably be recommended are Good Hands from Estonia/Latvia (director Peter Simm), Antichrist from Poland (a 30-minute short directed by Adam Guzinski), and Occident from Romania (director Cristian Mungiu). Let us hope that Eastern Europe will provide us with much to savour in the years to come.
Link
Details of screenings from September to November 2003 can be found at: