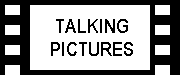 As part of the Times bfi 47th London Film Festival, on 5 November, The Most Beautiful Man in the World is awarded TCM CLASSIC SHORTS best short film of 2003. Jude Law, Ralph Fiennes and Bernardo Bertolucci are just some of the film industry's finest who have given their time to judge the films and decide upon a winner to receive this prestigious award.
TCM CLASSIC SHORTS is one of the most valuable short film competitions in Europe, awarding £10,000 in prize money. It enjoys the support of international film industry stars, producers, directors and journalists including Richard Eyre, Stephen Frears, Mark Herman, Wendy Ide, Nick James, Richard Jobson, Colin Kennedy, John Madden, Ismail Merchant, Barry Norman and Stephen Woolley. Lending their time and expertise to the initiative since its inception, they have been invaluable in helping nurture new talent and find the British film directors of the future.
Directed by Alicia Duffy, The Most Beautiful Man in the World is a bewitching story of a young girl, who is searching for something to do on a hot day when she aimlessly walks into the path of a stranger. Duffy is the first woman to have won the award in the four years that the competition has run. Jude Law commented that the film was, "beautifully shot", he added that he, "loved the simplicity and atmosphere of the film", and the fact he was "left with questions and emotions".
Second place goes to The Bypass directed by Amit Kumar with Brown Paper Bag by Michael Baig Clifford taking third prize.
TCM CLASSIC SHORTS competition has been part of The Times bfi London Film Festival since 2000 and this year received 320 entries. Among the bright new talent it has discovered and encouraged are, Gerald McMorrow, director of THESPIAN X, Brian Percival, director of About A Girl, which won the Best Short BAFTA and director, Toby MacDonald whose Je T'Aime John Wayne also received a BAFTA Best Short nomination.
TCM (Turner Classic Movies), a Time Warner Company draws from an extensive library of timeless movies presenting them in a contemporary style reinterpreting their place in history and their relevance to people's lives today. In the UK, an average of 5.1 M viewers tune in to TCM each month, making TCM the 2nd highest rating movie channel (behind Sky Premiere). TCM is available via cable and satellite.