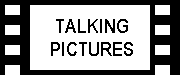 A perfect companion piece to The Red Violin is the two-part documentary called The Art of Violin, directed by Bruno Monsaingeon, a Paris-based concert violinist, who has devoted himself to making films about music (David Oistrakh, Artist of the People?, Dietrich Fischer-Dieskau, Autumn Journey). The first segment is called The Devil's Instrument while the second part is named Transcending the Violin. Itzhak Perlman narrates the film which showcases performances by master violinists of the Twentieth Century and shares his recollections of the legends of violin, some of whom he came to know personally.

Along the way we are treated to rare archival footage of celebrated performances or home footage of great violin virtuousos such as Jascha Heifetz, Fritz Kreisler, David Oistrakh, Joseph Szigetti, Yehudi Menuhin, Isaac Stern, Eugene Ysaye, and others. The opening montage featuring five different soloists playing the Mendelsohn Violin Concerto is priceless. Also included are rare glimpses of child prodigies such as Ginette Neveu, Michael Rabin, and Joseph Hassid who died tragically at an early age. Interviews with contemporary artists such as Ida Haendel, Hilary Hahn, Ivry Gitlis, and Mistlav Rostropovich also provide considerable insight into the traditions of the violin and its performers over the years. Included is a very enlightening segment discussing the two great makes of violin: Stradivarius and Guarnerius, demonstrated by excerpts played upon various such violins dating as far back as 1699.

Highlights of the film for me included the brief moments of Chausson's Poème played by Ginette Neveu and David Oistrakh performing the cadenza from Shostakovich's Concerto No.1. My only complaint is that two of my favourite violinists, Georg Kulenkampf and Bronislaw Hubermann were not included. Naturally the quality varies from clean modern footage to shaky images from as early as 1912. What is amazing to me is that each performer's unique sound comes across so clearly. Ida Haendel said, "No one can say what makes one sound differ from another. This is in my opinion the individuality of the person: the strength of the pressure of the bow on the strings, the pressure of the actual fingers on the violin... the whole position." One thing is certain, regardless of the performer and their individual style, the beauty of the music is universal.